Using warm living room colors is one surefire way of creating coziness and comfort in the heart of the home. More and more, we want our sitting rooms to work hard to help us feel relaxed, welcomed and snug, and bringing warm colors into the space where a room might naturally feel cold or stark, is a simple way to achieve this. 
Behind a designer or homeowner's thought process when creating a warm living room should be a thorough understanding of color theory. The color wheel is divided into cool and warm colors, and using the warm and fiery side of the wheel can bring a very real warmth to your room, either through wall paint, accessories and decor, or in muted forms on key pieces of furniture. 
It's also about using color to help create depth and contrast in a space. 'A warm color scheme evokes a lushness into a space. It can open up a room while also creating depth,' explains Tiffany Howell of interior design studio, Night Palm. 'Typically, people feel more emotionally drawn to a warmer palette because it provides a sense of calm while primary colors tend to be more jarring.' Read on for our favorite colors that help achieve a sense of warmth in your living room.
Oonagh is a interiors editor and writer with a key interest in how we use color in the home. For this story, she spoke to the interior designers to find out just why we crave warmth in our homes, and how best to achieve it through the clever use of color.
What are the best warm living room colors?
1. Sand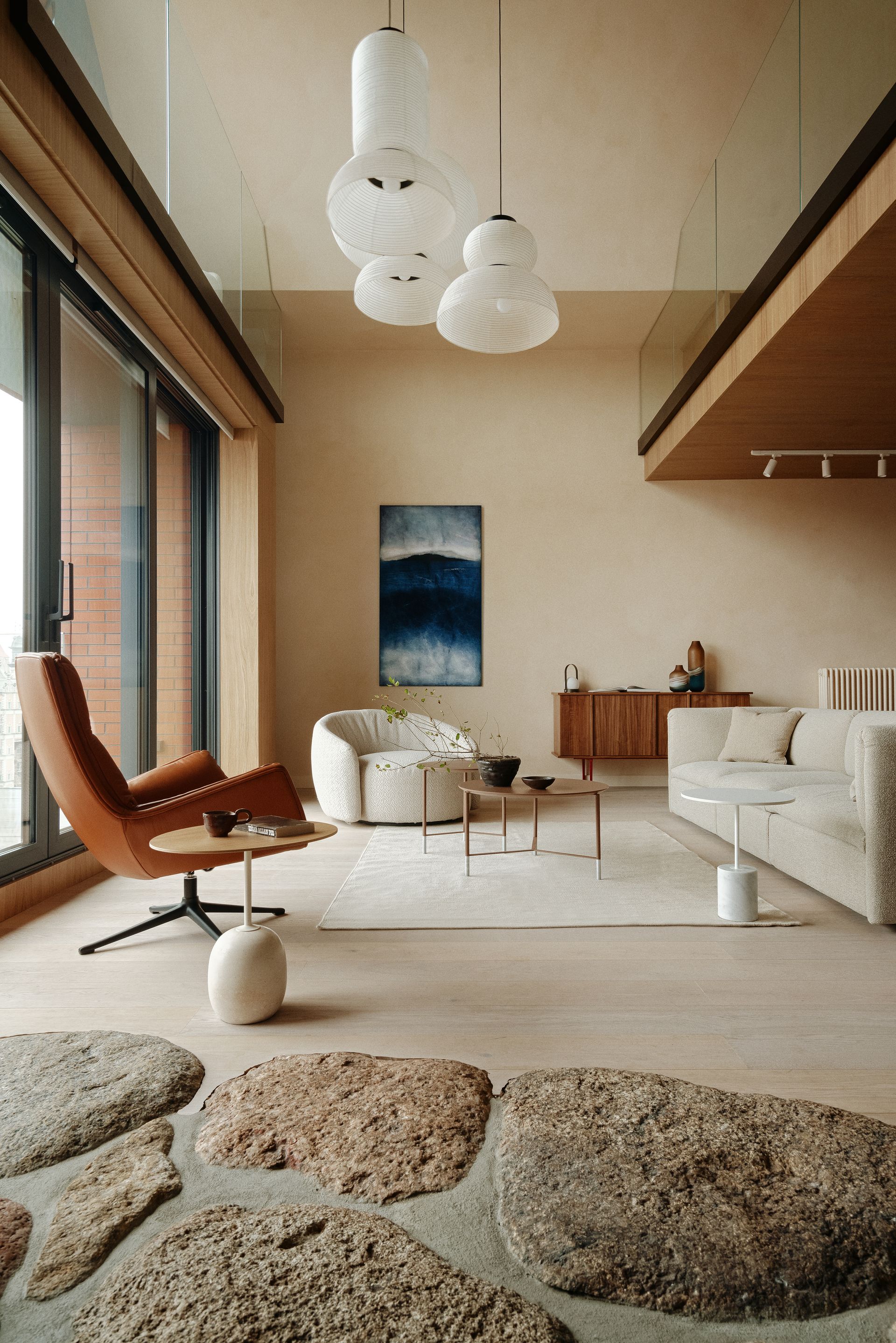 With yellowy undertones, sand has a natural warmth to it, as seen painted on the walls of this beautiful, compact apartment in Poland. Instead of a bright yellow living room, the sand tone is subdued and muted, but still brings a golden glow to the space, even during the colder Polish winter months. 
Its warmth also stems from its deep roots in nature, which we find comforting to surround ourselves with and so makes for a great living room color idea, finds Jan Sikora of Sikora Interiors (opens in new tab), who created the space. 'The dominant sand color has its source in the colors of nature,' says Jan. 'The light color evokes the sandy landscapes present on the nearby beach and is perfect for relaxation and providing a beautiful frame for the view of the old city. The color creates a background that is complemented by elements of natural wood and is complemented by industrial elements,' says Jan.
2. Warm browns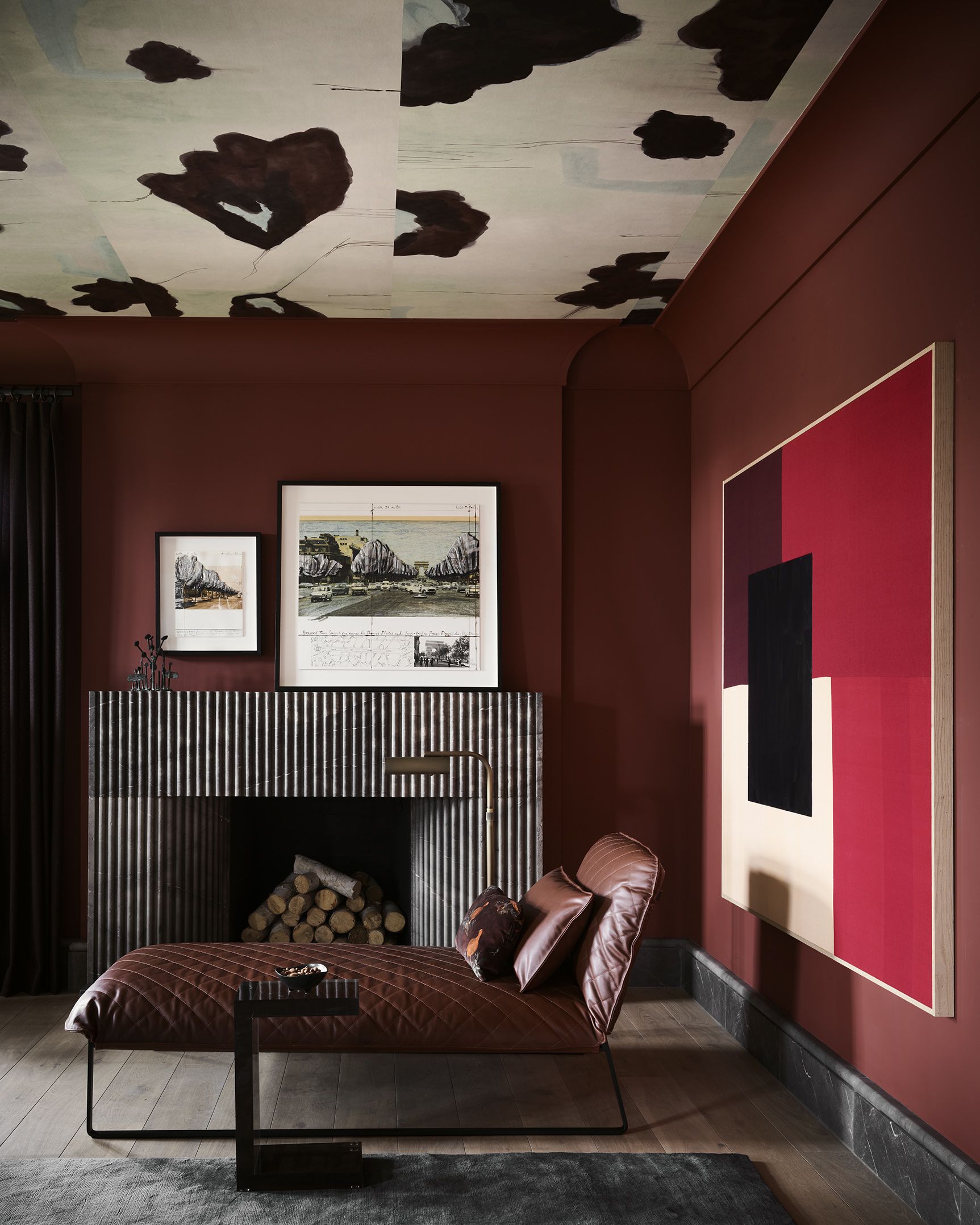 Brown is another shade that has real natural warmth to it. While it might first appear dark and brooding, looking to color theory, modern color wheels understand brown as a dark shade of orange, while more traditional color wheels interpret the shade as a mix of varying primary and secondary colors – including yellow and red. Both these logics make brown a warm shade – relying on warm primary colors.
More and more, we are using brown on our living room walls, making it a popular choice when designing a modern living room. It can help create a rich and cocooning environment in your living room. 'Warm browns are great to use if you want to achieve a natural, modern and uncluttered aesthetic,' recommends international interior designer, Natalia Miyar (opens in new tab). 'It makes any room feel cozy and comforting. This color can be used as accents in furnishing or the dominate color throughout a scheme. I find that the shade works best when paired with delicate pinks and soft neutrals as their warm undertones create a sense of cohesion between color.'
3. Plaster pink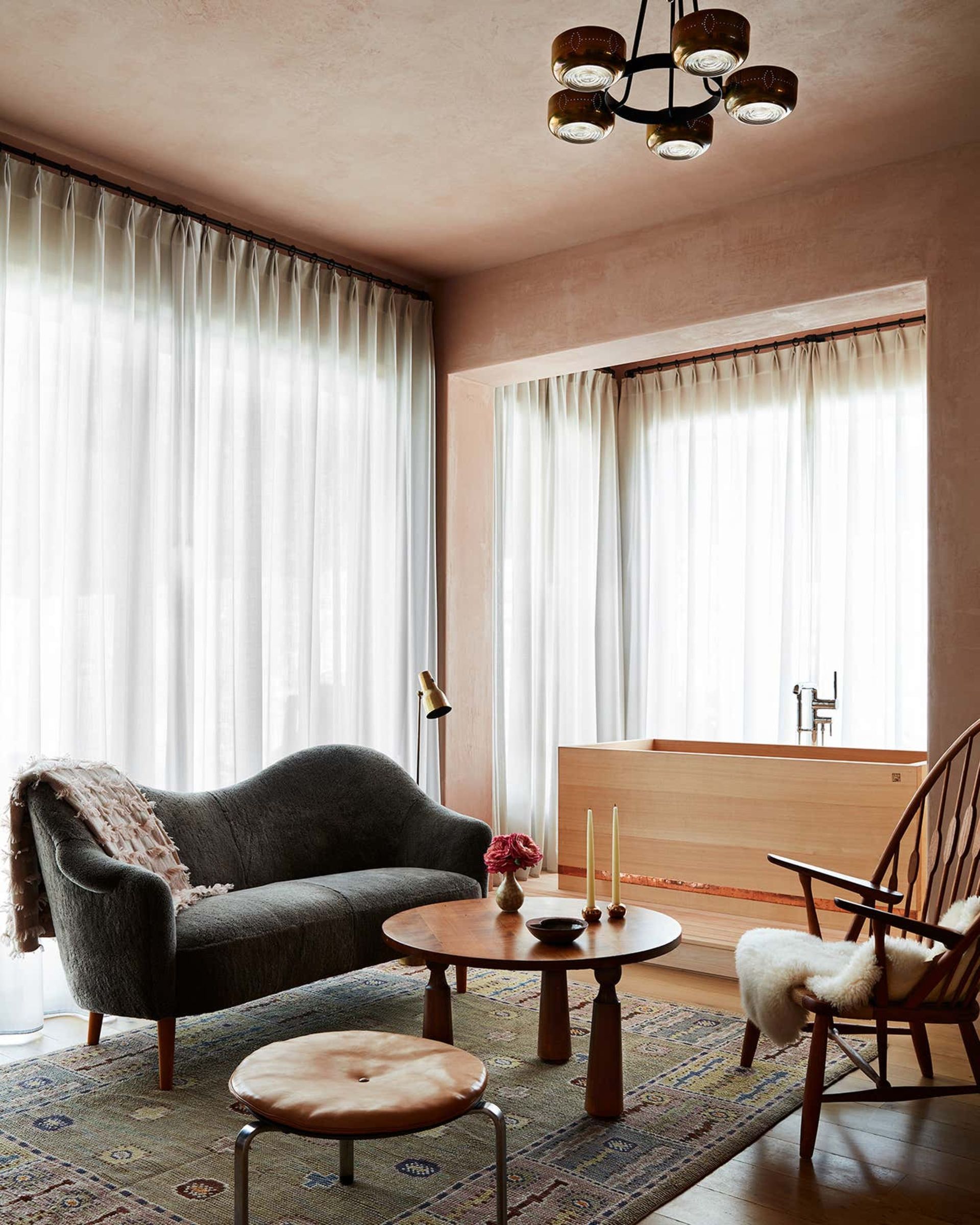 Pale, plaster-inspired pink has natural undertones of red too, and so a warmth comes to the surface in certain low lights, even when used in its most muted and pale form. Mixed with a grey undertone it might even feel moody or earthy. 'Depending on how you use it, pink can provide interest and offer a subtle blush of color,' says Helen Shaw, a color expert for Benjamin Moore (opens in new tab). 'It not only warms a room up but also feels positive and welcoming,' says Helen. 
This pale pink living room is designed by Studio Shamshiri (opens in new tab), and is almost a clay-like tone that feels like an earthy, modern rustic living room all at once.
4. Ochre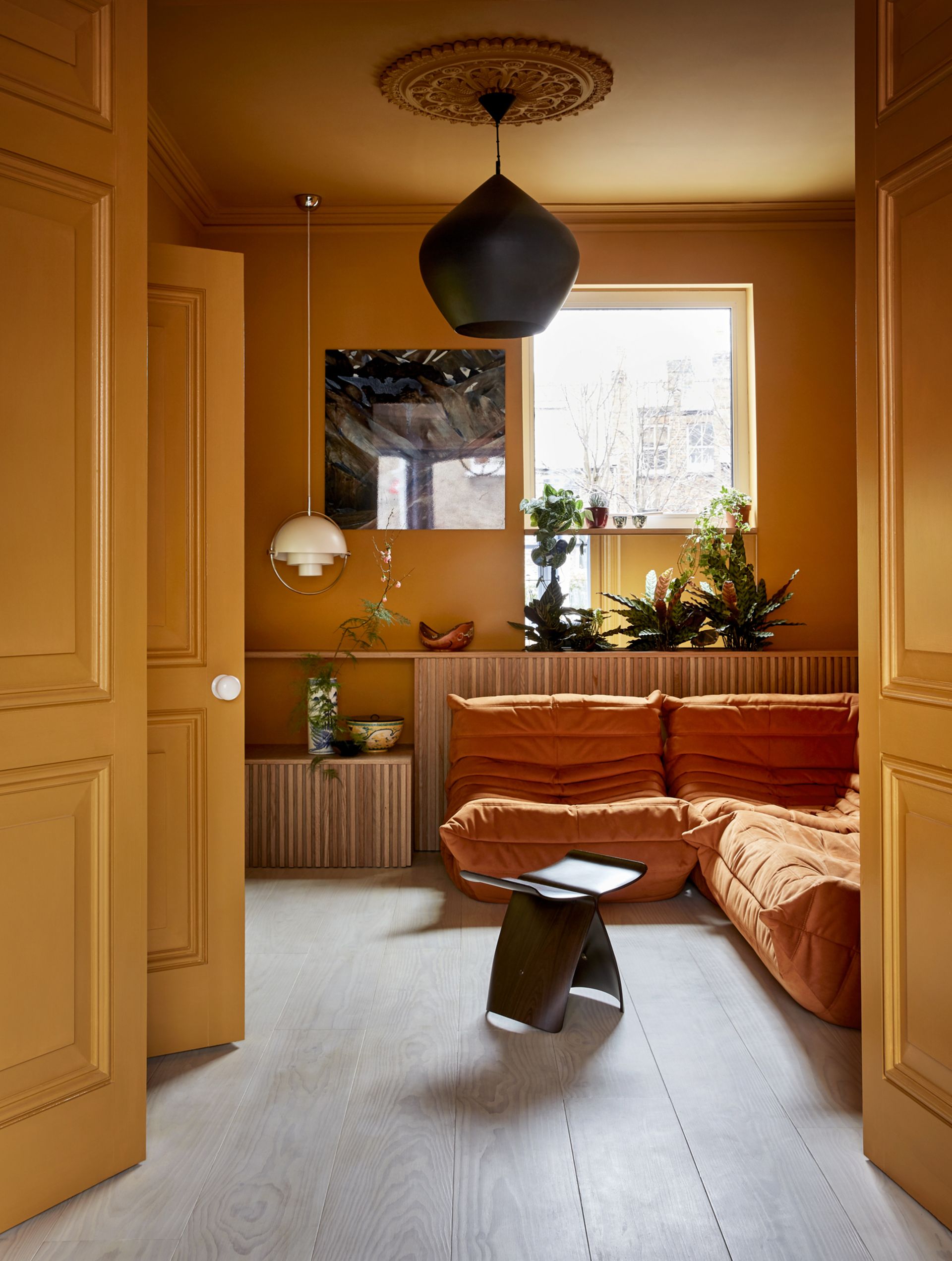 In this living room by Collective Works (opens in new tab), an ochre form of yellow has been embraced throughout the space. The color is fiery and warming, and the finishing touches come in the form of a glamorous Togo sofa, which makes the room all about warmth and coziness, rather than the yellow shade insinuating vibrancy. 
One modern living room trend is to take the paint and go monochromatic with it – taking it up the skirting board, on the ceiling and across the crown molding. This creates a cocooning effect which makes for a living room that feels extra cozy and inviting. 
5. Shades of red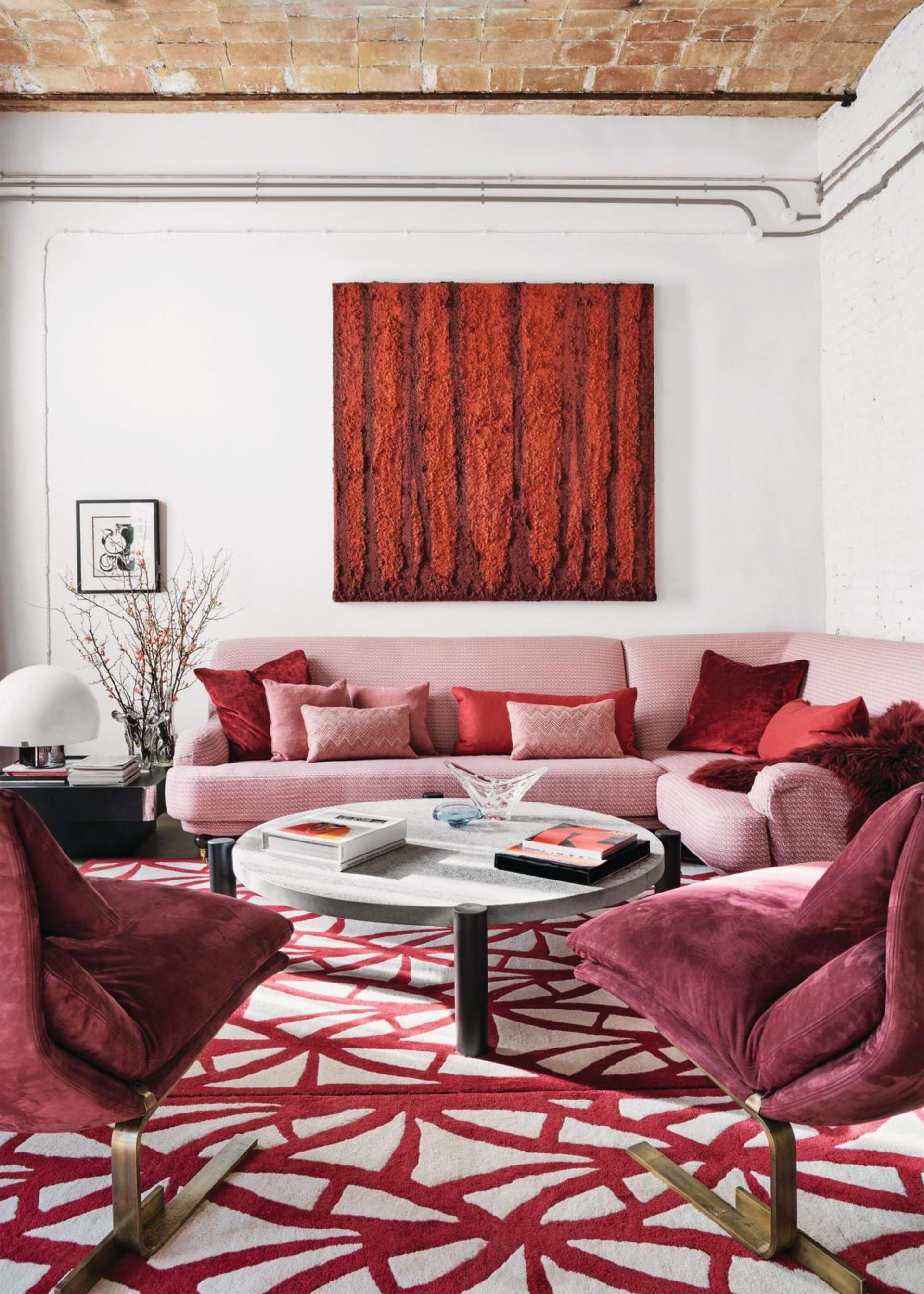 Reds, in their varying shades, can introduce warmth in a living room, but tread with caution. A bright red lick of paint or even feature wall can be quite overbearing in a living room, especially as this is a space for relaxation, so think about bringing warmth through red in other, subtler ways. A piece of dramatic artwork perhaps, or a smattering of cozy red cushions on the sofa. 
This living room has a rug with a red geometric pattern and even details on the coffee table deliver pops of red. Try not to think so literally when bringing in your warm color, and instead look to decorating codes like the 60-30-10 rule that encourages you to take three colors and use one color as the main color, one as an accent color, and one as a feature color used for accessories dotted around the room. Red might not be your first choice for your main color, but could work as accent or accessory color, as depicted here.
6. Plum purple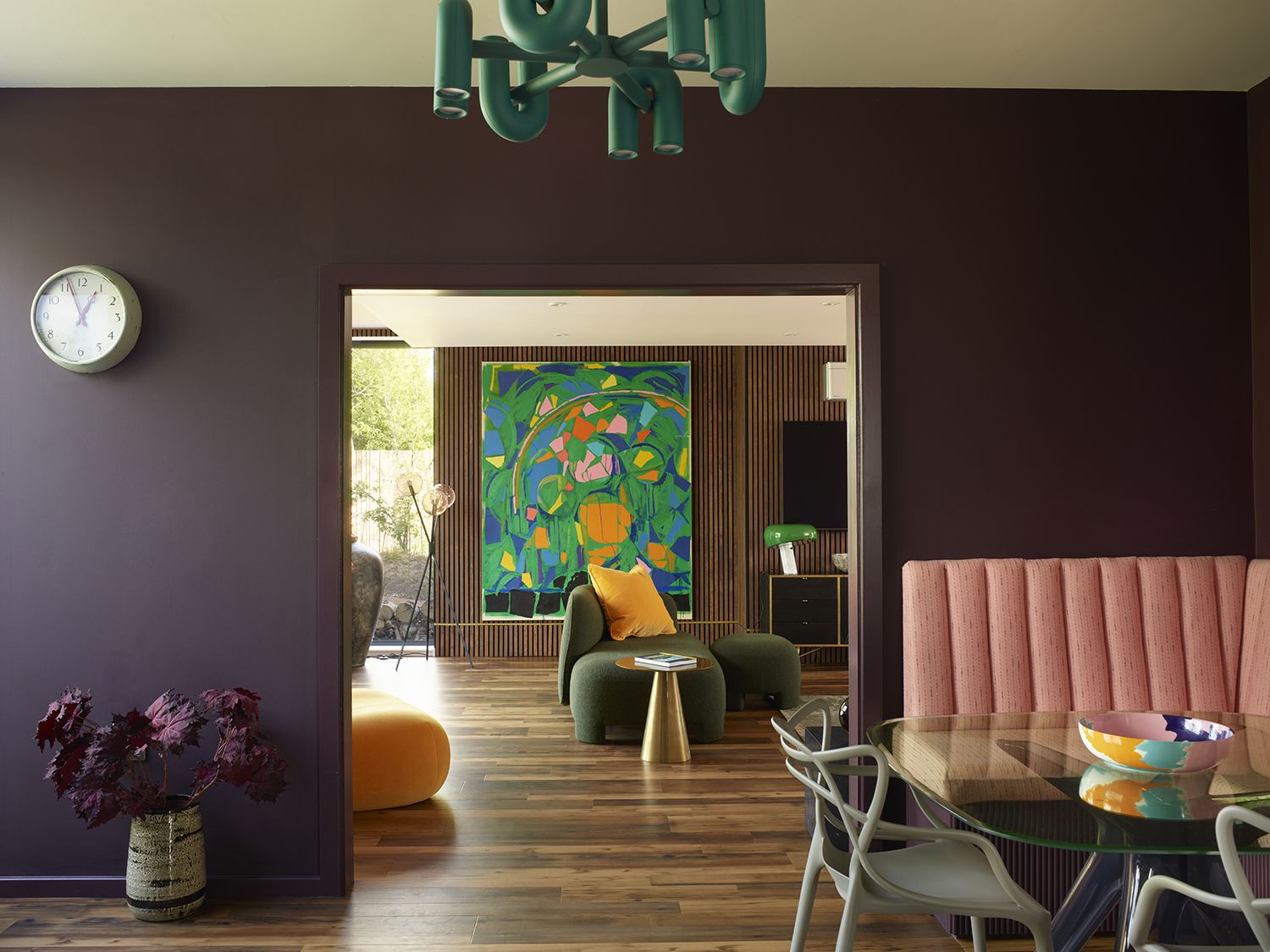 Shades of plum or an intense purple is another tone that has warmness to it due to undertones of red, but the presence of blue in the mix brings a dark and sumptuous feel too, and that warmth we so desire in our living rooms. 
Here, interior designer Charlotte Beevor (opens in new tab) has evoked a warm and snug feel to the living room through a clever use of paint on the walls, creating a space that minimalist house that's full of color.
7. Sage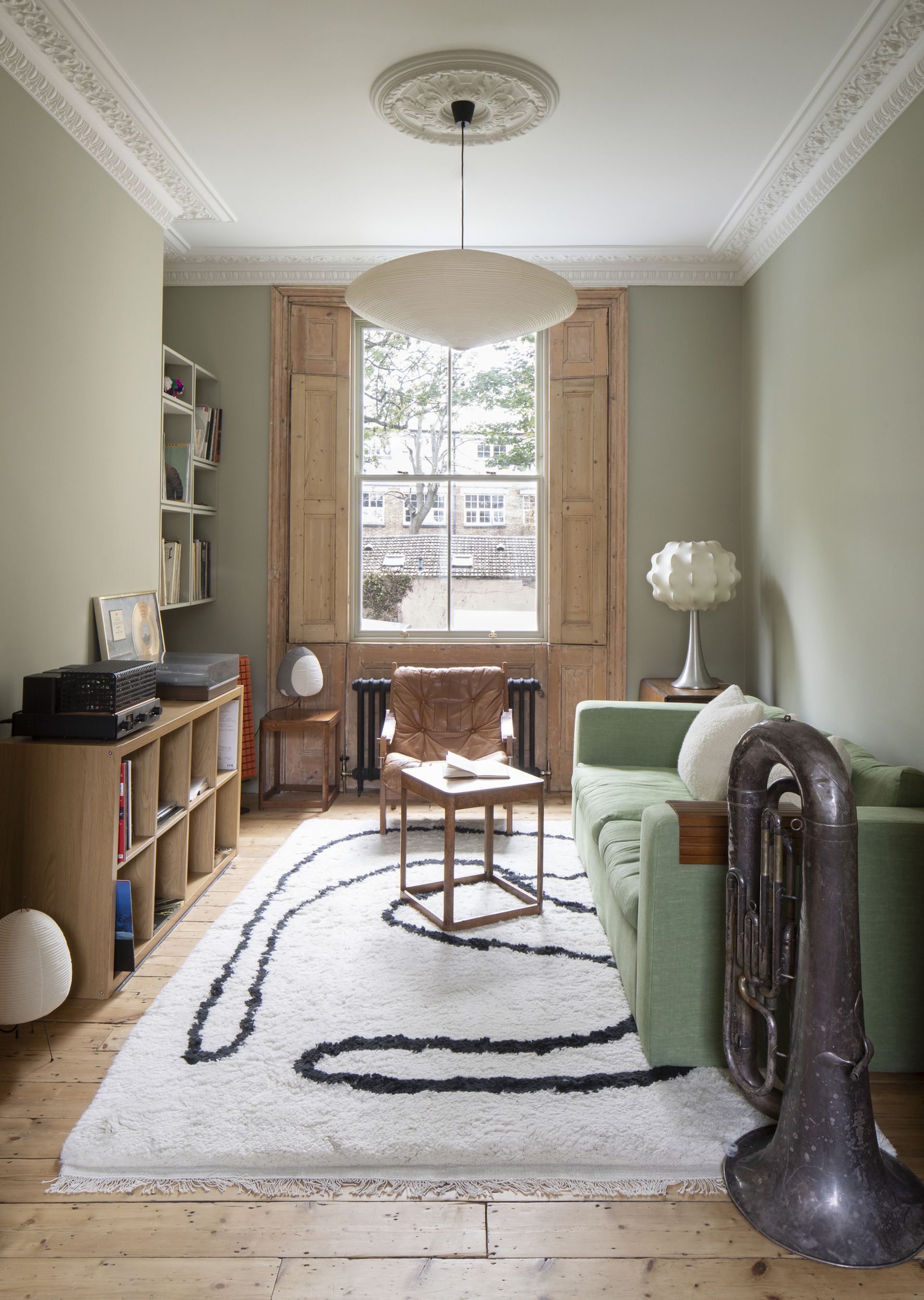 This choice goes against color theory, as green belongs on the cool side of the color wheel, but there is something about a sage tone of green which gives it a calming quality, and when you really consider what you pair it with, it can make for a really warm space. 
Seek extra warmth by perfectly pairing sage with hardwood flooring and wooden architectural features, as seen here in this design by YARD Architects (opens in new tab) who use wood for the window surround and shutters in this small living room. Alternatively, think about with natural materials, like rattan and jute or a sumptuous high pile wool rug. Think about the colors that go with sage green too, and pair with decor in warmer tones like pink or brown for real coziness.
8. Mushroom grey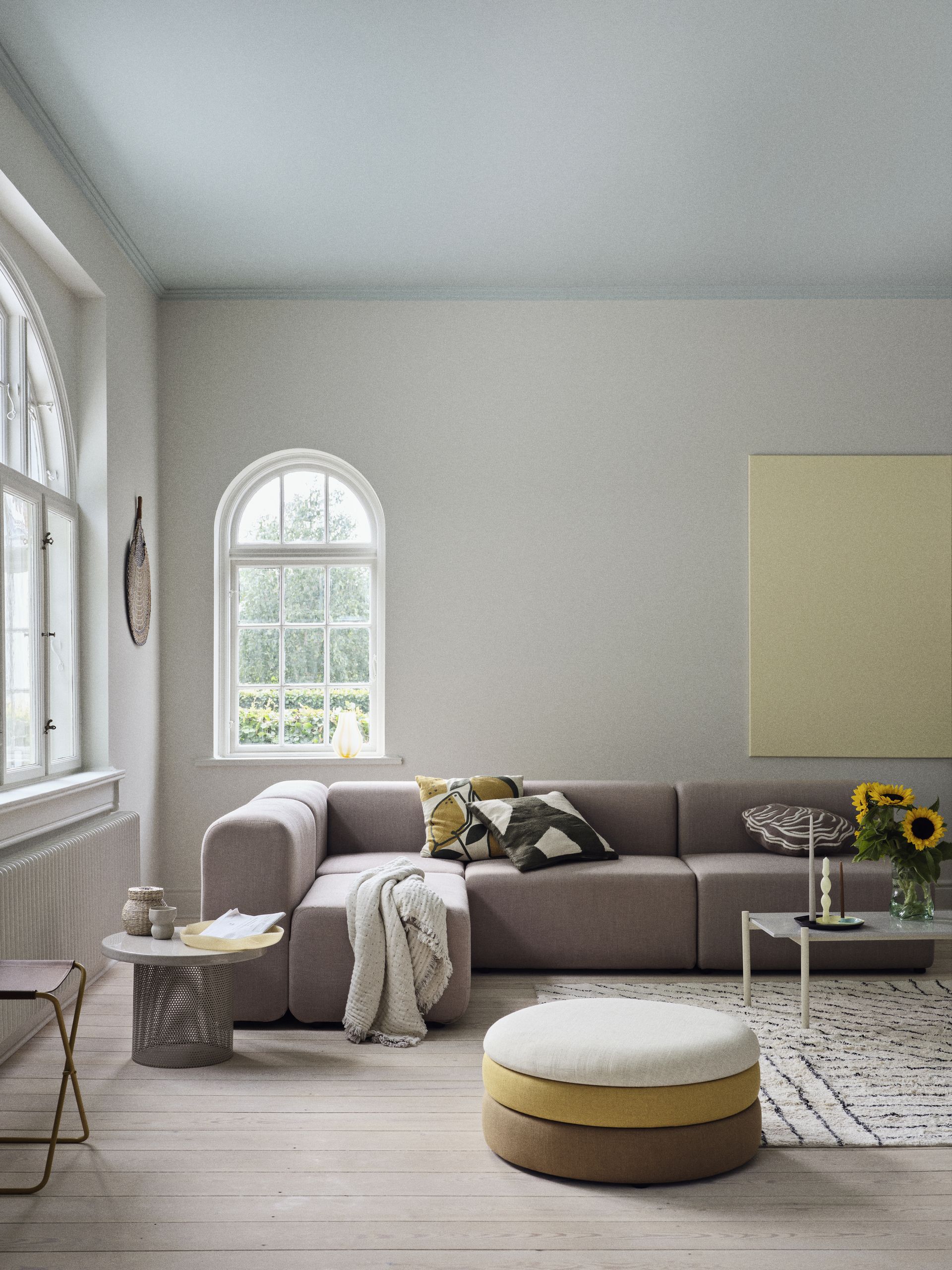 Grey has had its moment in the spotlight, and homeowners are tired of the moodiness and drab quality it can bring to a space. Instead, by mixing with a warm brown, you can create this warming grey tone that is a pleasing in-between shade, perfect for a big ticket piece of furniture like a sofa and creating a really cozy living room. 
'Mushroom is one of the rich earth tones that's trending,' say Glenn Lawson and Grant Fenning, co-founders and designers of Lawson-Fenning (opens in new tab). 'Clients are moving towards warm neutrals for the larger upholstered pieces. After the ups and downs of the last few years, we think buyers want to live in a calming, warm environment.'