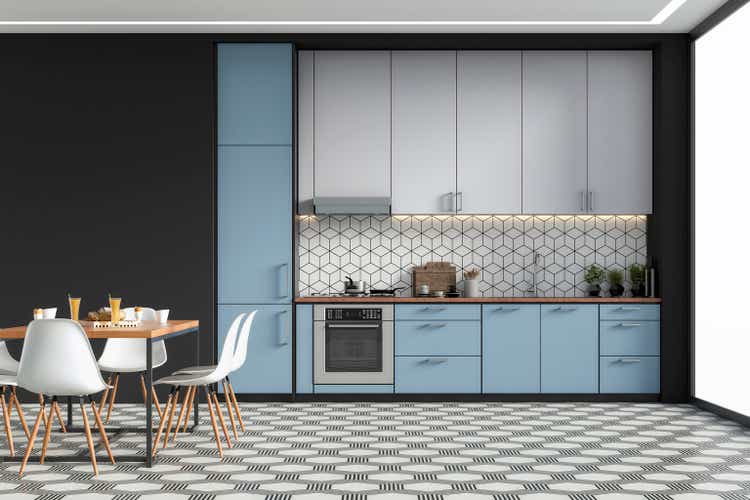 Investment Thesis
Floor & Decor (NYSE:FND) is a hard surface flooring retailer and commercial flooring distributor with 191 warehouse-format stores and six small design studios across 33 states. With an experienced management team, the company lays out an expansion plan to drive future store base growth at 20% annually. It gives FND a runway to grow to become the next home improvement retail giant.
FND also has performed well financially over the past few years. Revenue per share rose 64%, and EPS surged 83% from 2019 to 2021. However, FND declined over 50% from its all-time high in December 2021 and had a disappointing performance in 2022 due to the depressing housing market. This allows investors to buy this incredible growth company at a significantly discounted price in my opinion. Thus, I rate FND as a "Strong Buy".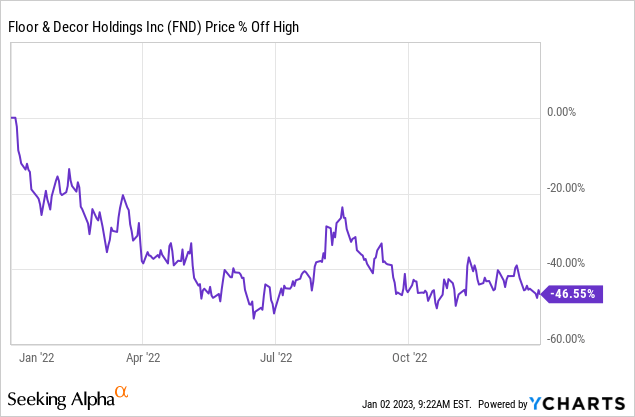 Victorious Business Model
A team of experienced executives, including Chief Executive Officer Tom Taylor, manages FND. He had 23 years of experience at The Home Depot (HD) and assisted in expanding the store base from 15 stores to over 2,000 stores. FND is in the early growing stages. His valuable experience provides excellent guidance for FND to scale.
FND's warehouse-format stores provide one-stop services for their customers to shop for hard surface flooring materials and associated tools and materials. The company offers products from over 60 proprietary brands and approximately 4200 stock keeping units ("SKU") in each store, far greater than other flooring retailers. As a customer, an integrated store like FND is something I have longed for. It saves considerable time from traveling between stores to search for flooring materials of different styles and brands.

Besides, the focus on Pro customers provides a competitive edge for the company. Although the Pros are only accountable for 40.7% of total sales, they are likely to make more frequent store visits, and their professional opinions often affect homeowners' choices. Thus, FND offers a dedicated Pro sales force at each store to help the Pros shop more efficiently. Also, to improve their loyalty to FND and engage new Pros customers, the company launched a Pro loyalty rewards program. In the latest earnings call, the management provided some encouraging numbers related to Pros:
Pro transactions were up 7% during the quarter, and the top 10% of our PPR members spent 24% more than they did a year ago. If you think about that's 185 stores in a really difficult macro to be able to sign up another 29,000 Pros during the quarter, that's all good for the long term.
E-commerce is relatively less important to a hard surface floor material retailer as customers may wish to have first-hand experiences to feel the textures and materials of the flooring materials. Only 16% of the total sales are from e-commerce channels. But FND is still eager to develop its online platform as it assists customers in exploring design options and enriches the whole shopping experience.
With a great variety of products, a professional sales team and an experienced management team, the company achieved a remarkable 14.2% comparable store sales growth per year over a thirteen-year period (2009 – 2021) and a 12.6% growth from 2017 – 2021.
The Next Home Depot?
FND operates in a large but fragmented U.S. floor coverings market, estimated to have an addressable market size of $30 billion. Hard surface flooring material has recently gained popularity, partly because of better hygiene and higher durability. The market size is approximately $41 billion if associated tools and materials are included.
Currently, FND only has 197 stores and studios, which is only less than one-tenth of Home Depot's store count. As the floor covering market in the U.S. is highly fragmented, FND still has a wide and long runway to grow as one of the largest home improvement retailers in the U.S. The management estimated that FND represented only 8% of the total addressable market.
To gain market share, the hard floor covering retailer has an expansion plan to grow its store base by 20% annually for the next several years in new and underserved markets. Expansion to at least 500 stores nationwide over the next 8 to 10 years is anticipated. The company demonstrated that the aggressive plan is achievable this year. They opened 32 new warehouse stores across the U.S., a 20% increase from last year's store count.
Performances of the newly opened stores have been promising already. All new stores are profitable in their first year and achieve better comparable store sales growth than existing stores.
Other than FND's expansion plan to acquire market share from this fragmented sector, a pending 2023 recession may also be an excellent opportunity to grow market share. Small and heavily indebted floor covering companies may be forced to shut down under a challenging economic backdrop. The balance sheet of FND should be healthy enough to survive the recessionary environment. And it will likely be able to gulp the released market share from those unable to get through tough times.
The company is on a runway to expand its business to 500 stores this decade. The hard surface floor covering industry is growing at 4% annually. With its fragmented nature, it will not be surprising if this well-managed company continues to gain market share and becomes the next home improvement retail giant like Home Depot.
Solid Balance Sheet
Acquisition activities and the aggressive store expansion plan may pressure the company's balance sheet as the latter incurs significant pre-opening expenses (e.g., construction cost, training cost, advertisement cost). Especially the capital expenditure of the company has been on an increasing trend over recent years.
However, I found the balance sheet of FND fairly solid, and its expansion plan would unlikely impact its financial performance adversely. FND now owns $374 million in debt in Q3 2022, where the majority of debt will be matured post-2026. The amount of debt is just slightly more than its equity value. A summary of financial strength ratios is tabled below for easy reference.
| | |
| --- | --- |
| Debt-to-Equity Ratio | 1.05 |
| Debt-to-Asset Ratio | 0.39 |
| Equity-to-Asset Ratio | 0.37 |
(Source: Author, data from Gurufocus)
Potential Risks
Styles of tiles and hard flooring materials are like clothes in your closet. They will change seasonally. Thus, the increasing inventory level is my concern, as old-fashioned floor covering materials could become outdated. There is a risk that the company will mark down the prices to clear the excessive and out-of-style inventories. The inventory level doubled from $654 million in 2020 to $1,320 million in TTM. The high level of inventory also brought the operating cash flow down sharply in the first three quarters of 2022. At the same time, free cash flow dropped to a negative level in the same period.
However, the sharp growth in inventory level to some extent reflected the frequent opening of new stores and new in-store products. As explained in the latest earnings call:
The inventory growth was in line with our expectations and reflected our new store growth. We have been making to improve our in-stock inventory, inflation and the addition of new innovative SKUs.
The second concern will be the declining existing home sales and home improvement incentives. Existing home sales data fell for eleven consecutive months (since February 2022). And The Leading Indicator of Remodeling Activity expected home improvement and maintenance expenditures would peak in the second quarter of 2023, and its growth rate would also slow sharply in 2023. We may conclude that the disappointing housing data will likely lower hard surface flooring material demand in 2023.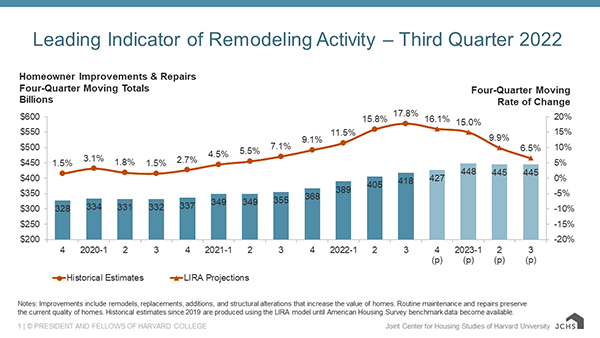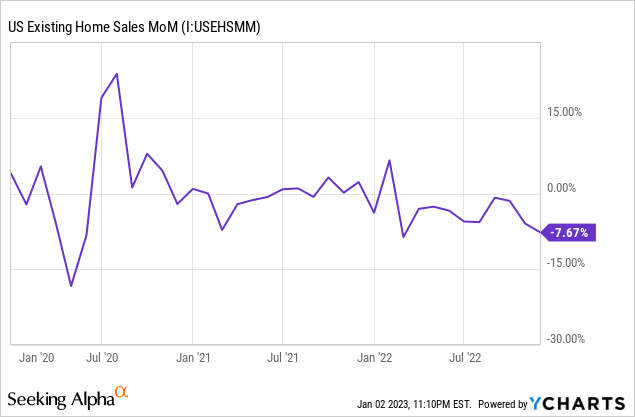 Some may argue the weakening housing market will severely affect home improvement retailers like FND. However, even during tough times, FND still delivered strong financial results. Total sales and EPS grew 25.2% and 16.7% YoY in Q3 2022, respectively. The management team is also confident in achieving 14 consecutive years of comparable store sales growth.
Valuation and Conclusion
FND has a great business model and management team to scale itself in the highly fragmented hard surface floor covering industry to become the upcoming home improvement retail giant. In previous years, the stock has demonstrated robust financial performance.
The stock is now significantly discounted. FND has a P/E ratio of 27.09 currently, which is 43% lower than its 5-year average P/E ratio. The company's 5-year average P/E ratio is reasonable as it matches its 5-year average EPS growth (42.5% CAGR).
However, the average P/E ratio will likely decline as the Street anticipates a slower growth rate in the next few years. Below are my bullish and bearish cases of valuation, assuming the stock returns to a P/E ratio of 33.6 (70% of the current 5-year average P/E ratio).
| | | |
| --- | --- | --- |
| | Bullish Case (EPS Growth %) | Bearish Case (EPS Growth %) |
| 2022 | 12.2% | 8% |
| 2023 | 16.4% | 8.2% |
| Fair Value | $107.5 | $96.2 |
| Implied Growth | 54% | 38% |
One extra reason to own FND is that Berkshire Hathaway (BRK.A) (BRK.B) established their position of FND in Q3 2021 and increased their position at ranges between $81 to $130. Entry at current prices will provide investors with a discount over Mr. Warren Buffett.
Please kindly note that all data in this article is abstracted from FND's conference call transcript in 2022 Q3 and 2021 annual report, unless otherwise specified.