When we need immediate design inspo and expertise, there's one person we turn to every time: Emily Henderson. She has an unparalleled ability to create rooms with effortless flow, and her eye for modern, accessible pieces is enviable (and worthy of our Instagram fan-girling). And while we want to inhabit every space she designs, there's a faster way to experience Emily's interior magic: her latest book, The New Design Rules.
If there's one thing Emily's book makes clear, it's this: learn the rules and make them your own. While interior design may come with an air of intimidation, Emily emphasizes an easygoing and authentic approach. According to her, this book is for everyone, ("all design lovers at any level," are her exact words). The New Design Rules offers a glossary of construction vocabulary, and in it Emily distills the renovation process to help you communicate with your contractors ("so you don't get man-splained") and achieve home remodeling success.
But of course, a complete home renovation is a huge undertaking (as Camille knows well). So today, we're featuring a snippet of Emily's expertise and tapping her for tips on how to design a kitchen layout. Keep reading for our exclusive Q and A with Emily and an excerpt from her book where she shares all the kitchen-optimizing goodness.
Psst… Want more of Emily's expert insights? Pick up a copy of The New Design Rules today!
image above of Lauren Conrad's kitchen, by Justin Coit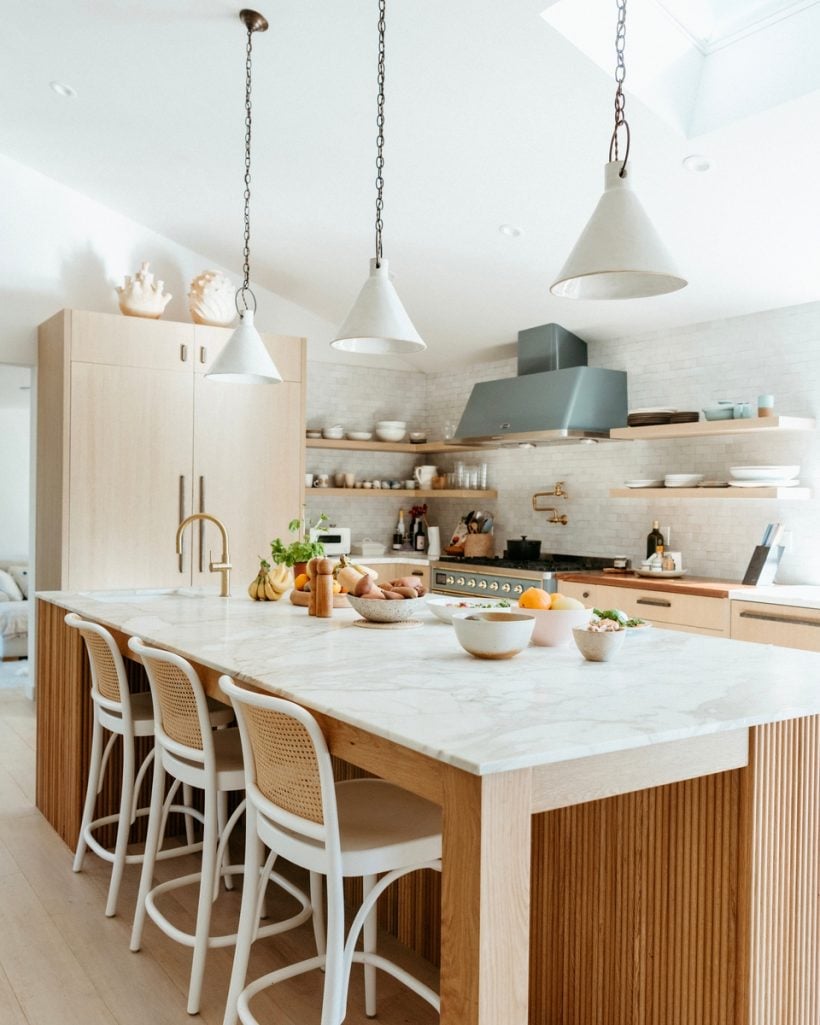 Image of Brian and Jessie De Lowe's kitchen by Michelle Nash
If We don't have a design background, what can we do to build confidence before taking on a project?
Step one is truly where most people get paralyzed and they stop before they start. The truth is you are likely drawn to a mix of styles. And yes, mixing your mix of styles with a partner's mix of styles is indeed challenging (and brain-melting). But it can be done and it will make your home look more like your collective selves.
Think about what styles you are most consistently drawn to, whether it's mid-century modern, traditional, modern farmhouse, etc., or a mix of them.
Just know that all styles can be mixed together if you have a consistent color palette.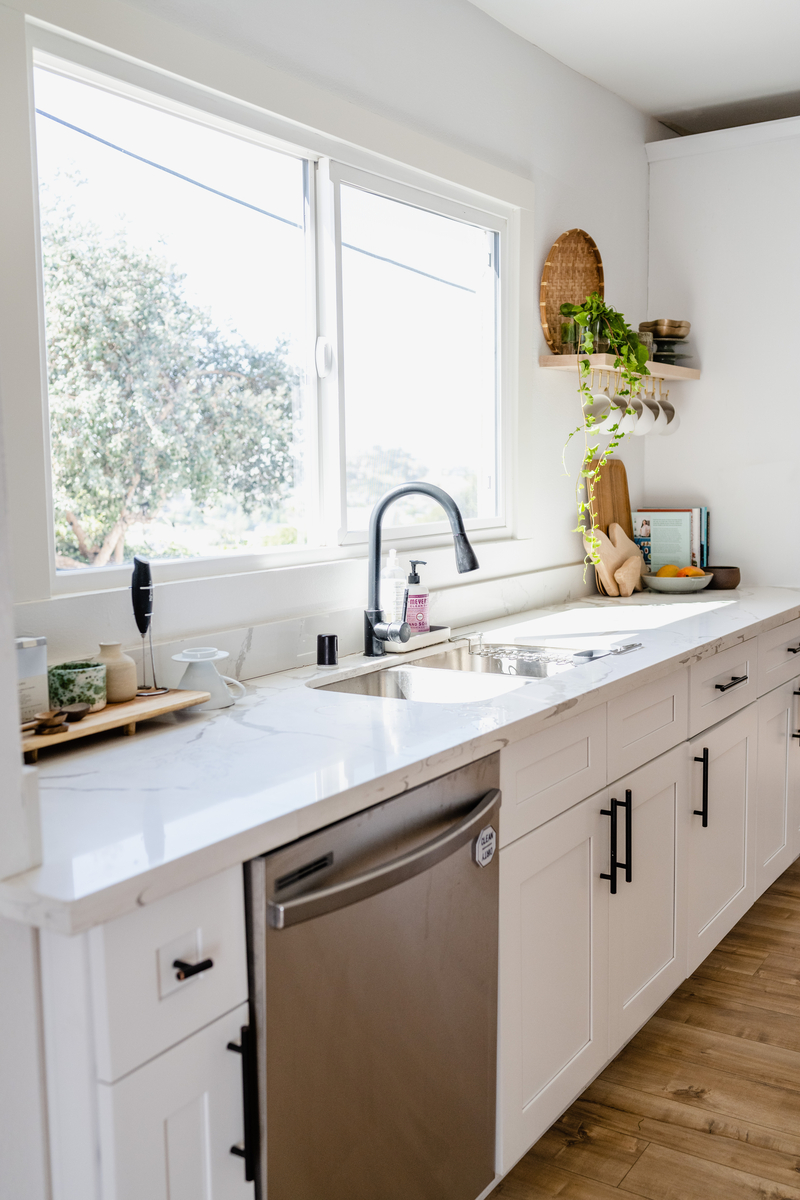 Image of Diana Ryu's kitchen by Teal Thomsen
This book was born from your own frustrations in the remodeling process. What advice would you share with someone starting a renovation?
Don't chase trends when it comes to permanent finishes. Take risks, but be really careful leaning hard into trends in your permanent finishes like tile, flooring, windows, or architectural details. If you feel nervous as I often do, then think about taking your risks in lighting, furniture, and décor (elements that don't require demo and hiring out to change).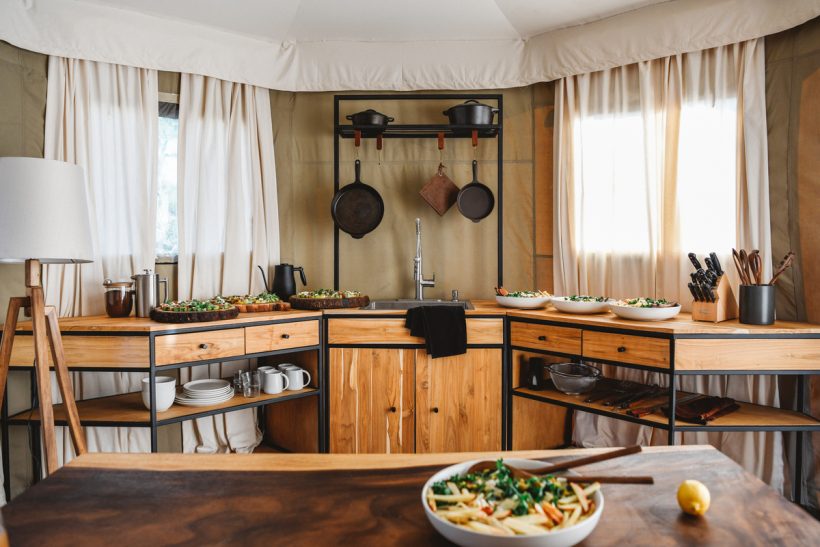 Image of Blake and Sarah Smith's kitchen by Michelle Nash
The New Design Rules empowers readers to make rules of their own. How can they follow these guidelines and learn to trust their own taste? 
The "rules" exist because they work and often look good. But that doesn't mean you can't bend (or even break) them and take risks! One of the most important things I've learned is that "rules" and knowledge of "what is right" tend to restrict my creativity and quirk. I want you to know the rules so you can make more informed decisions to break them. The result is a home that's functional, interesting, and represents YOU.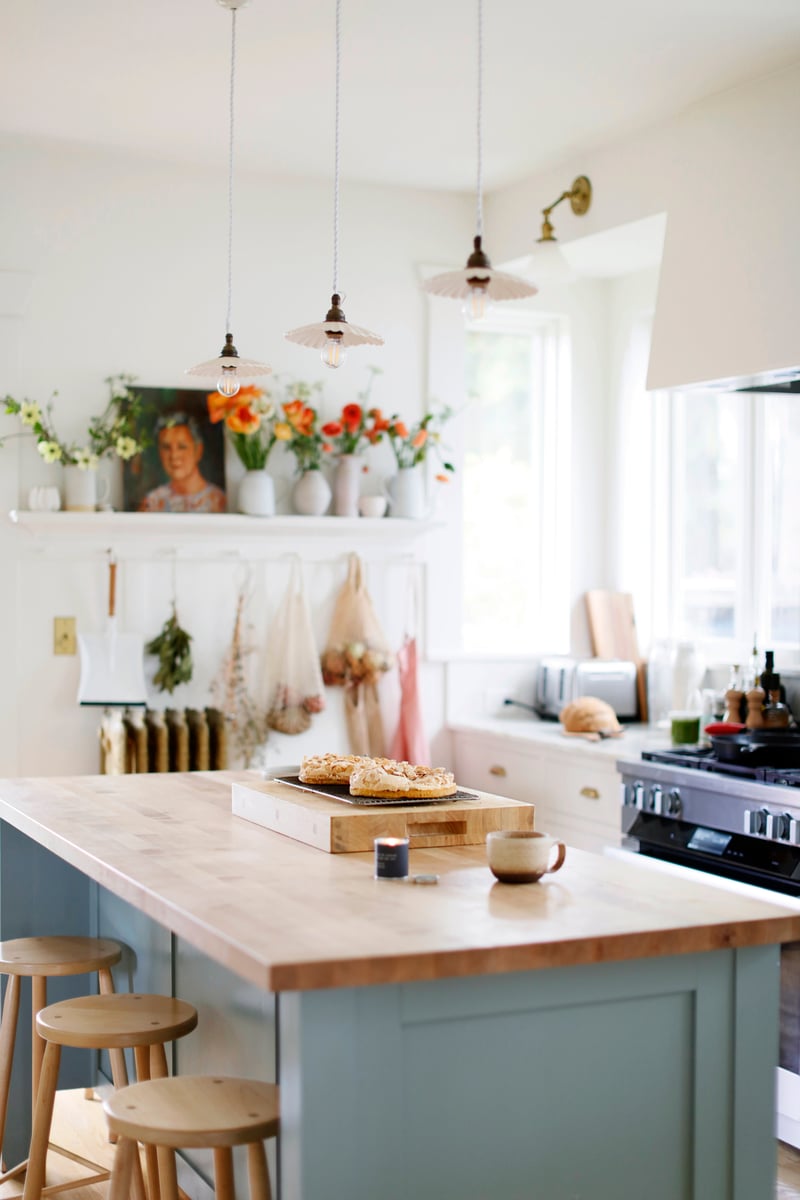 Image of Aran Goyoaga's kitchen by Michelle Nash
What are a few strategies to stay within (or come below!) budget on a remodel?
There are a lot of ways to update your kitchen without doing a full gut renovation (and spending $$$). Custom cabinets are going to be your #1 expense possibly in your whole renovation. So if there is ANY way you can preserve the carcasses and layout of your cabinets, try that first.
These days, you can paint them or simply replace the fronts from companies like Semi-Handmade, saving you tens of thousands of dollars. Beyond that, hardware, updating lighting, updating faucets, and even painting or adding a simple backsplash can do A LOT.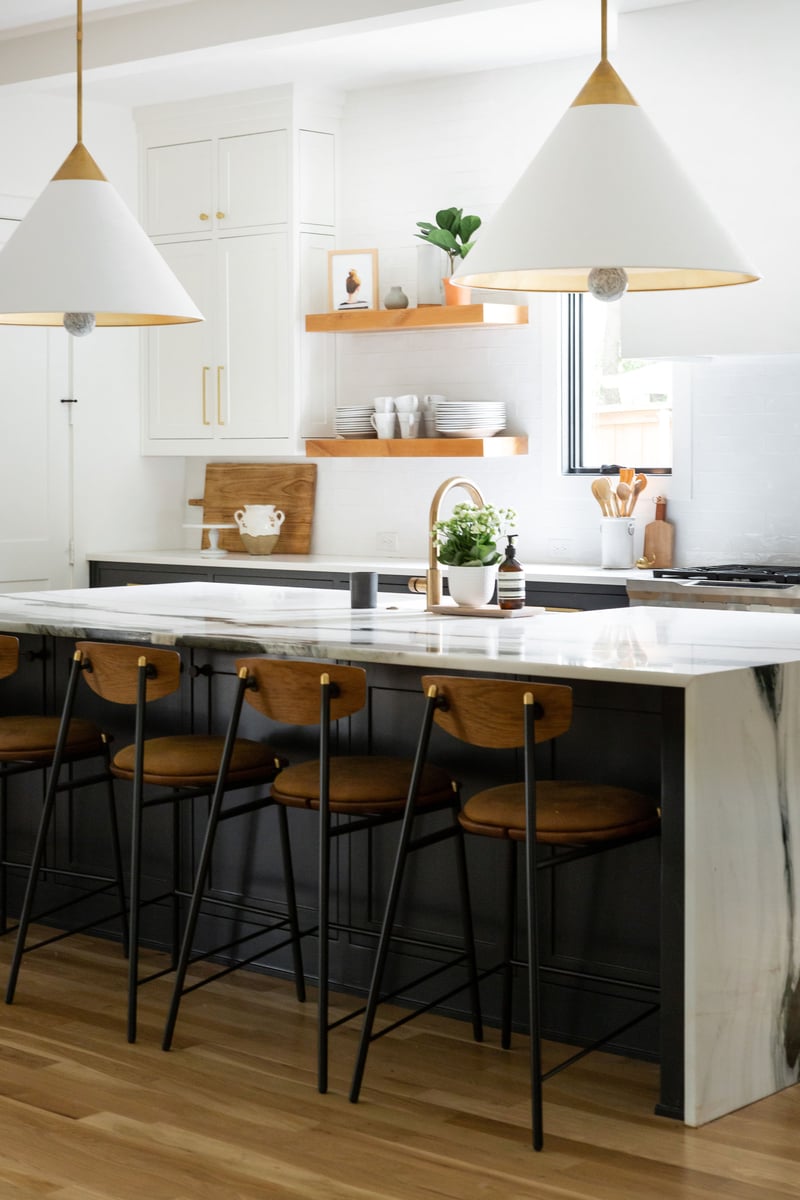 Image of Ashley Robertson's kitchen by Matti Gresham
what should homeowners do Before diving into a kitchen?
Whenever you are renovating, you should first consider your specific lifestyle and needs. For the kitchen, ask yourself the following:
How often do you truly cook?
Are there multiple cooks in your household?
Do you entertain a lot?
Do you have kids?
These are important questions that will help you learn how to design a kitchen layout that works best for you.
For high utility spaces like the kitchen, think practicality first, style second.
Note the moments you are willing to take a style risk (backsplash versus countertop?) and do that. A 100% practical kitchen can end up generic, so I like to prioritize how the family is going to use it on a daily basis, then make more stylistic choices in the less important areas (i.e., lighting, hardware, backsplash, and accessories).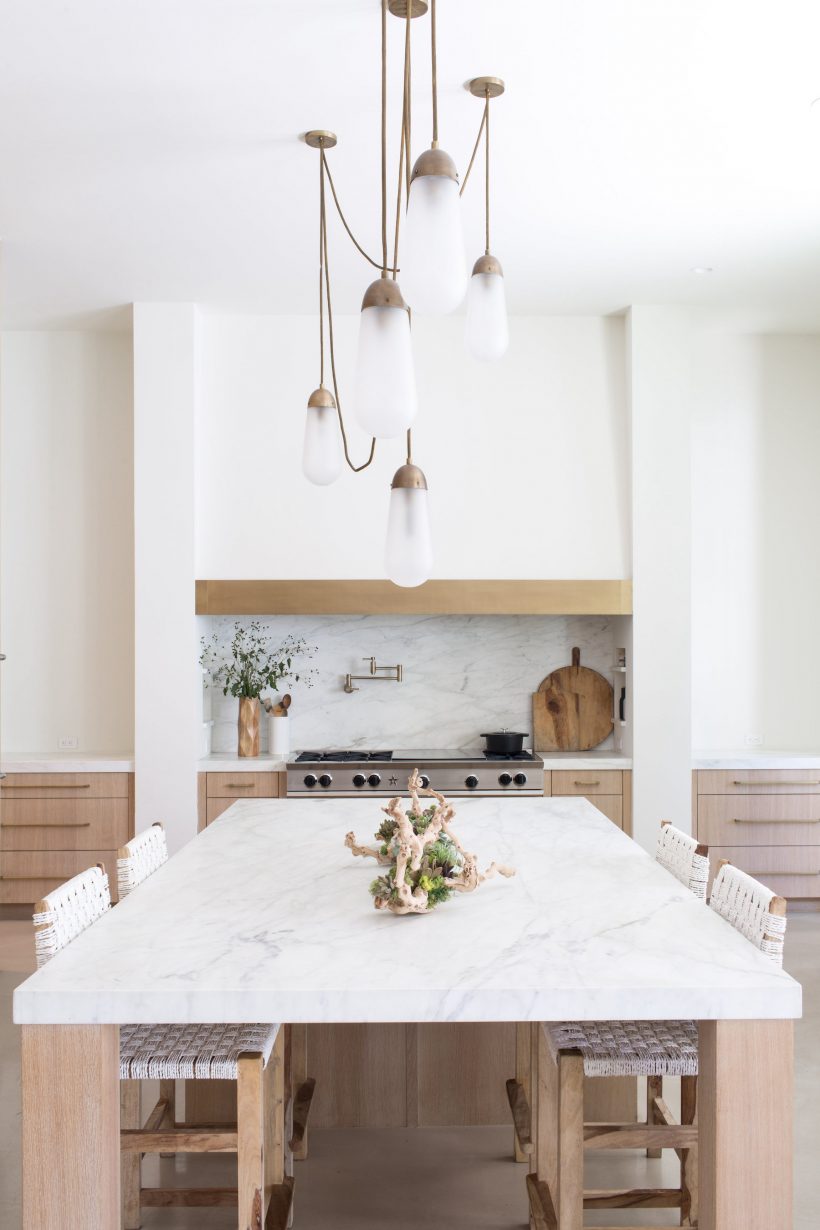 Image of Meredith Lamme's kitchen by Kate Zimmerman Turpin
How to Design a Kitchen Layout, According to Emily Henderson
If you are getting ready to take on a kitchen renovation or an update, I want to reach out of this book and give you a big hug, as you're probably going to need it. I know I did.
Renovating the kitchen is where you'll likely spend the most money and feel the most stress, but, ultimately, it is also where you will pass the most time (living room aside). No wonder they call it the heart of the home. It's also the space that will add the most value to your property in the long term, which requires that you make some pretty big, very permanent decisions.
If you have a vintage home, you might consider the layout—moving or removing walls to open up tight spaces and make the room more easily navigable. But that not only costs you money, it also takes time, during which you'll be faced with lots of takeout nights.
Until you can achieve your dream kitchen, you might be just as happy with a simple update. Consider buying new appliances, repainting cabinets, replacing uppers with open shelving, and even adding a new backsplash and countertop.
So many decisions—no pressure! I'm here to help you through it.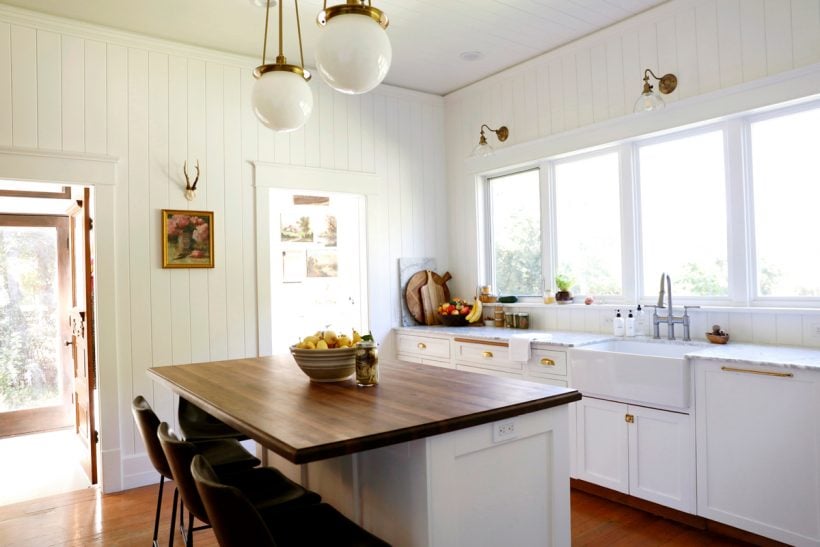 Image of Cathy Poshuta's kitchen by Teal Thomsen
Laying Out the Kitchen
Let's begin with how your kitchen is set up, or how you want it to be set up. More specifically, where does everything in your kitchen live? Most designers default to THE KITCHEN TRIANGLE RULE, which puts three main appliances—the sink, refrigerator, and the stove—all in, you guessed it, a triangle. This often obsessed-over layout was invented to make cooking easy and efficient, but there are many scenarios I've been in where this rule was better off broken.
So if the triangle isn't the be-all and end-all of kitchen layouts, how else might you consider arranging your cooking space? I'm glad you asked.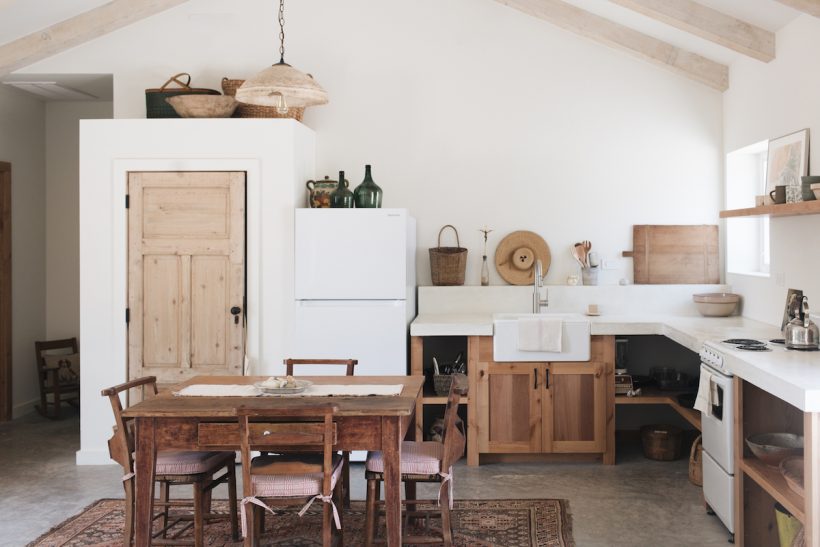 Image of Kate Zimmerman Turpin's Sunday House kitchen by Kate Zimmerman Turpin
Before You Land On A Kitchen Layout, Consider:
How Much Do You Truly Cook? If you are more of a "make food from scratch" type, then you will have different layout needs than a quick cook.
Are There Often Multiple Cooks? If so, you'll want to make sure that you aren't on top of each other.
Do You Entertain A Lot? Think about where you want guests to hang and whether it makes sense to keep your island free of a stovetop or sink so there's room for a cheese board instead.
Do You Have Kids? If so, then prioritize storage. Give yourself a large pantry and reserve those lower drawers for everyday plates and glassware so the kids can help themselves.
Will Your Island Be Used For Eating? Or would you prefer a small kitchen table that doubles as a homework station for the kids? (Hey there, breakfast nook.)
How Clear Do You Like Your Countertops? This is where you might consider an appliance garage and easy access to oils, spices, and cooking tools. Let's find a hidden (yet convenient) place for everything.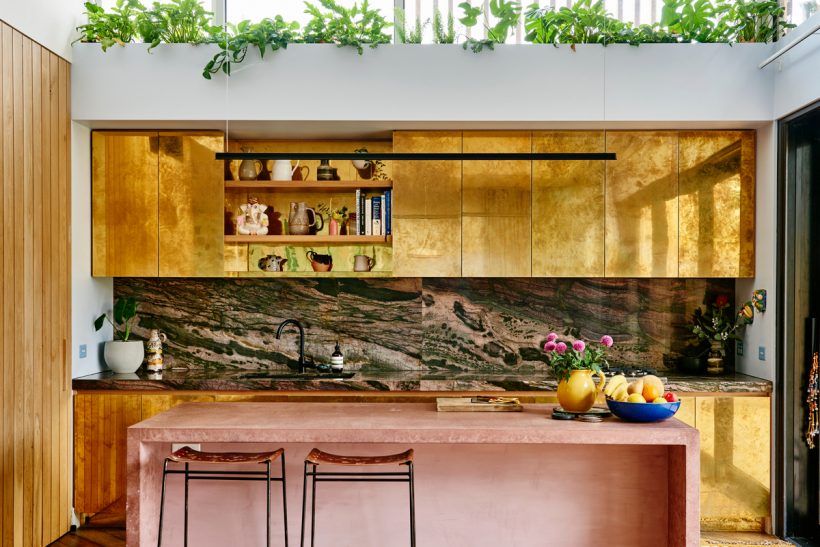 Image of Alex McCabe's kitchen by Nikole Ramsay
Land Your Ultimate Layout:
The three most popular kitchen layouts include the open concept, the galley, and the U-shaped.
Open Concept: Who needs boundaries? The reigning layout for decades, open concept kitchens allow for easy flow to the living spaces. But this layout is starting to fall out of favor because of its lack of privacy. It's also hard to hide messes.
Galley: A more traditional layout, the galley is starting to trend again with folks wanting more separation between spaces. If you love to cook with all the things, then the galley might be for you with two walls where you can stash a ton of cabinets. Think about adding a skylight or a window, or opening up one end of the kitchen to keep the space from feeling too dark.
The U: With three walls for your cabinets and appliances, this might be the Goldilocks of layouts. Work that kitchen triangle to your advantage, gain more floor space, and enjoy some privacy while still feeling connected to the rest of the home.
"Reprinted from New Design Rules" Copyright © 2022 Emily Henderson with Jessica Cumberbatch-Anderson. Photographs copyright © 2022 by Sara Ligorria-Tramp. Produced and styled by Velinda Hellen. Published by Clarkson Potter, an imprint of Random House."