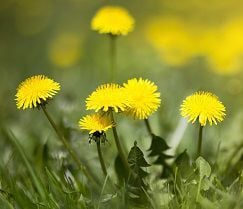 IOWA STATE UNIVERSITY EXTENSION

AMES, Iowa — Controlling weeds in home gardens and lawns can be a busy job, and Iowa State University horticulture specialists Ajay Nair, Adam Thoms and Gail Nonnecke tackle frequently asked questions.
How do I control weeds in my asparagus planting?
Weeds compete with asparagus for light, water, and nutrients and will reduce asparagus yield and quality if not controlled. Cultivation and hand pulling are the best ways to control weeds in an asparagus planting. Hoe or till the planting periodically in spring and early summer. Cultivate lightly to avoid damage to emerging spears. Under severe infestation or to manage larger areas, Gramoxone or Roundup can be used for weed burn-down before spears emerge. After the final harvest, Roundup could be applied directly to the weeds, strictly limiting any herbicide exposure to cut asparagus stalks.
How do I control dandelions and other broadleaf weeds in my lawn?
In small areas, some weeds can be controlled by pulling and digging. This method is best accomplished after a soaking rain or deep watering. Unfortunately, pulling and digging is often ineffective on deep-rooted weeds.
In many situations, herbicides are the only practical method of weed control. Effective broadleaf herbicides include 2,4-D, MCPP, MCPA, dicamba, triclopyr and others. The most effective broadleaf herbicide products contain a mixture of two or three herbicides as no single compound will control all broadleaf weeds. Fall (mid-September to early November) is the best time to apply broadleaf herbicides in Iowa. Broadleaf herbicides can be applied as liquids or granules and often in combination with fertilizer. Note that a preemergence herbicide for crabgrass will not control broadleaf weeds.