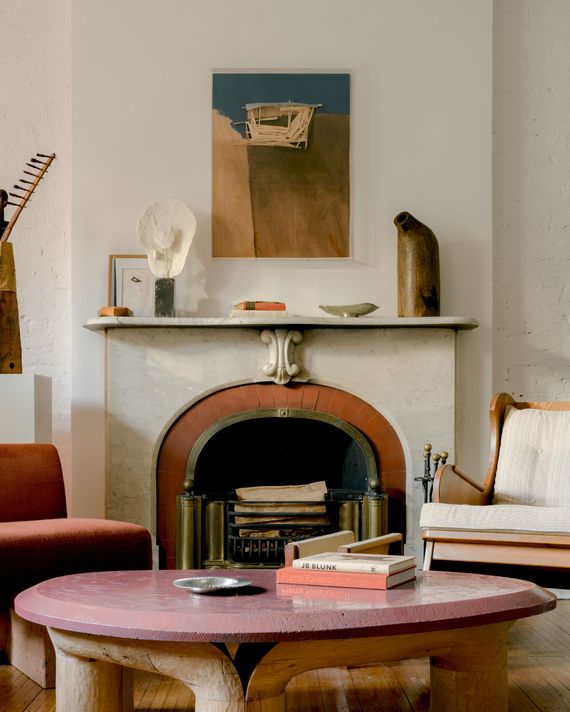 Ian Felton's glazed Lava Stone chair and coffee table, along with Axel Einar Hjorth's Lovö rocking chair. The artwork above the fireplace is by Tadashi Kawamata. Minjae Kim's plaster decorative lamp is on the mantle on the left.
Photo: Sean Davidson
In 2019, architects Olivier Garcé and Clio Dimofski were dispatched from Paris to New York to open a branch of Pierre Yovanovitch's design firm. They moved into a one-bedroom apartment in the prewar brownstone in the West Village where I also live. But we'd never actually met, until my friend the designer Brock Forsblom and I witnessed Garcé — whom he knew — and some friends moving intriguing new furniture, which turned out to be made out of lava stone, into the apartment. With masks in place, we stopped to talk and invited ourselves inside.
The furniture that had caught our eye was by Ian Felton, who later told me he'd been inspired, in part, by the animism of objects in pre-Columbian culture. "Over the last year and a half, I've been trying to perfect glazing lava stone with a process similar to ceramics glazing," he says. "I've been able to glaze large lava-stone volumes, turning a super-utilitarian material like lava stone into this really intriguing substance, kind of like coral underwater; the color possibilities are infinite."
But it turns out my neighbors weren't necessarily going to get to live with that furniture for very long. The pandemic has made the exchange of ideas in the design world much more difficult. The gallery openings and shows, and the related social gatherings that launch and feature new work, disappeared. So they had decided to make their own in a cozy home environment that was safe but still enabled people to see new work.
Garcé and Dimofski, with the help of a group of friends and gallerists, along with the photographer Sean Davidson, turned their apartment into a showcase for design.
"The main intention was to bring together a group of friends, but it was also to present Ian's new collection in a living environment," Garcé says. "The task was to create new works, assemble forgotten pieces, and open up conversation as to how these components would live together in the same place. Clio and I live on the third floor of a light-flooded prewar brownstone, the perfect stage for such a collaboration."
Aside from Felton, Garcé borrowed work from Green River Project,
R & Company, and Gabriella Picone, among others. Garce says of this idea that it will continue to evolve as time goes on in different locations.
A versatile Machu side table by Felton sits in the corner of the living room beneath a painting Imi Knoebel.
Photo: Sean Davidson
The team behind the design lab at home: from left, Ian Felton, center, Sean Davidson, and Olivier Garcé, with his and Dimofski's dog, Lewitt. This picture was taken, and the installation put together, before the arrival of Garcé and Dimofski's new baby, Zoë, just a few weeks ago.
Photo: Sean Davidson