Wondering where to start when it comes to furnishing your small living room? Might we suggest right here. We've cut it down to just 5 things you need to buy for a small living room, that yep that includes decor too. Because when it comes to decorating a small space, less is usually more. You don't want to fill it with loads of pieces that are going to visually clutter up the space and make it feel smaller. Just stick with the essentials…
1. Seating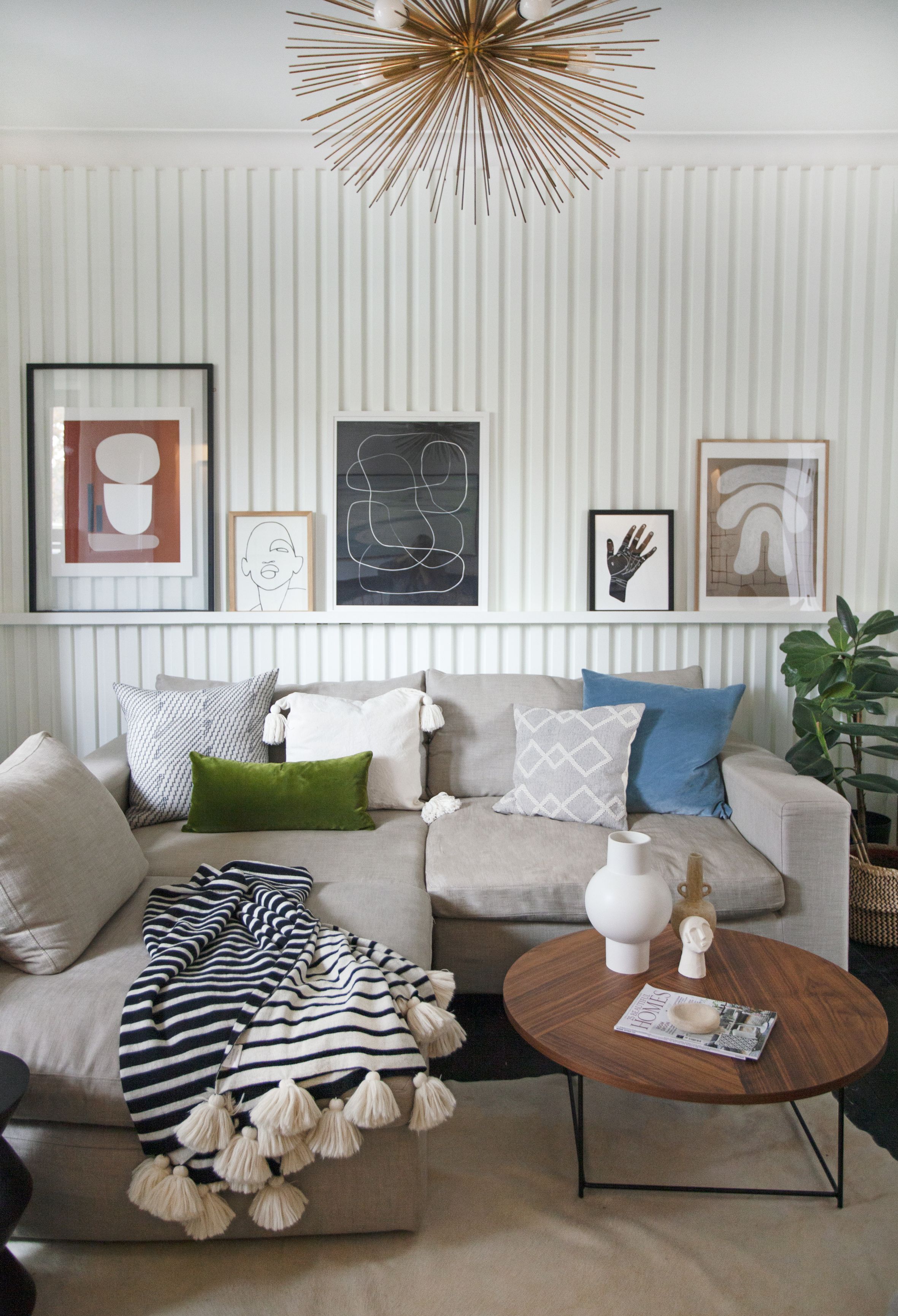 Let's start off with the obvious – seating. Now we say seating rather than sofa because while traditionally, every living room needs a sofa, we are seeing loads of small space dwellers ditching the bulky sofa and instead going for a couple of cozy armchairs or dividing up a sectional to create multiple seating areas. 
But, if you don't want to give up your sofa, fear not, they easily fit into small living rooms you just have to choose carefully. Do you want to embrace the potential coziness of a small living room with a large sofa or do you want to ensure there's still plenty of negative space and opt for something more slimline?
'Many people think they need a small sofa in a small living room but actually filling it and getting the biggest sofa that can fit the space will make it feel cozier and bigger. Choose a sofa that has legs, it will reveal more of the floor and give the illusion of space.' explains Jen and Mar from Interior Fox.
Big corner sofas can be a really efficient use of space as they can hug the walls of your living room and won't take up too much visual space, especially if you opt for a lighter color. 
2. An ottoman (or a pouffe)
If you are going to have a coffee table taking up all that precious square footage in the middle of your living room, it just makes sense for it be double duty. 
'Maximize space in a compact living room by investing in multifunctional furniture. An ottoman footstool is a great place to start, it works as additional seating for when guests visit, it creates extra storage, and best of all, a place to put up your feet at the end of a long day.' says Mar.
Picking an upholstered ottoman or a padded bench even if you need something narrower, over a coffee table gives you extra seating when you need it. But if you pop a cute tray on top for drinks and decor it fulfills the coffee table function too. 
3. Shelving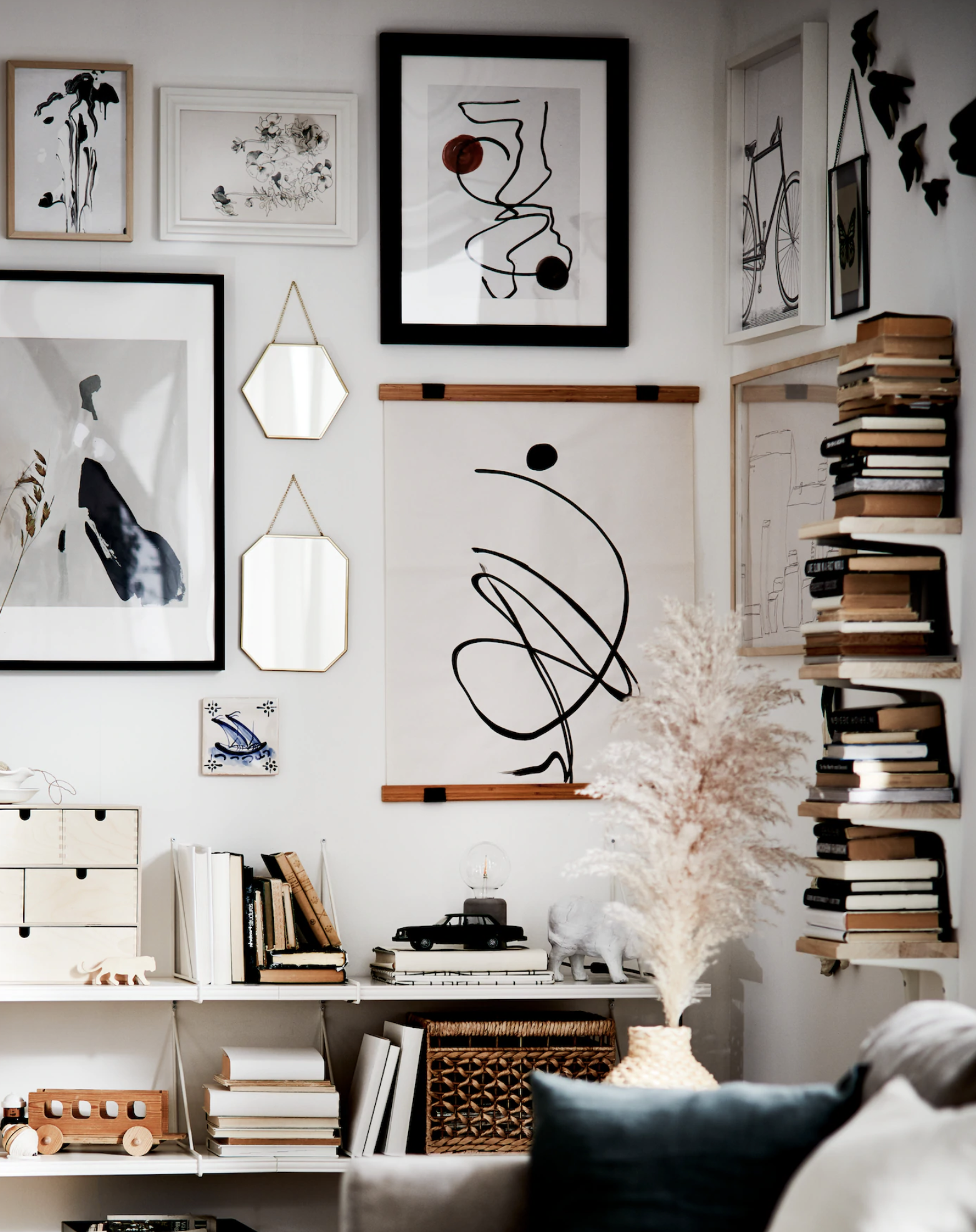 Storage is key for small living rooms but it's like a catch 22, you need it to make the room feel less cluttered, but how do you bring in storage pieces without making the room feel more cluttered? 
'Keep the clutter at bay by investing in shelving units or a freestanding bookcase.' advises Jen. 'Use the top and bottom shelves as storage, using stylish wicker baskets for storing items out of sight. Leaving the middle shelves where the eye naturally falls for an area of decoration.'
So the simple answer is shelving. It takes up zero floor space but can solve all your storage problems.
Pick floating shelves to store your more aesthetically pleasing stuff like books, photo frames and house plants. For hiding away the more unsightly things, choose a wall-mounted shelving unit that has doors – float it a few inches above the ground so it's almost like a console table but the lack of legs will keep that floor space underneath free. 
Top tip: opt for shelving that's the same color as your walls so they don't visually cover too much or stick out into the room. 
4. An oversized rug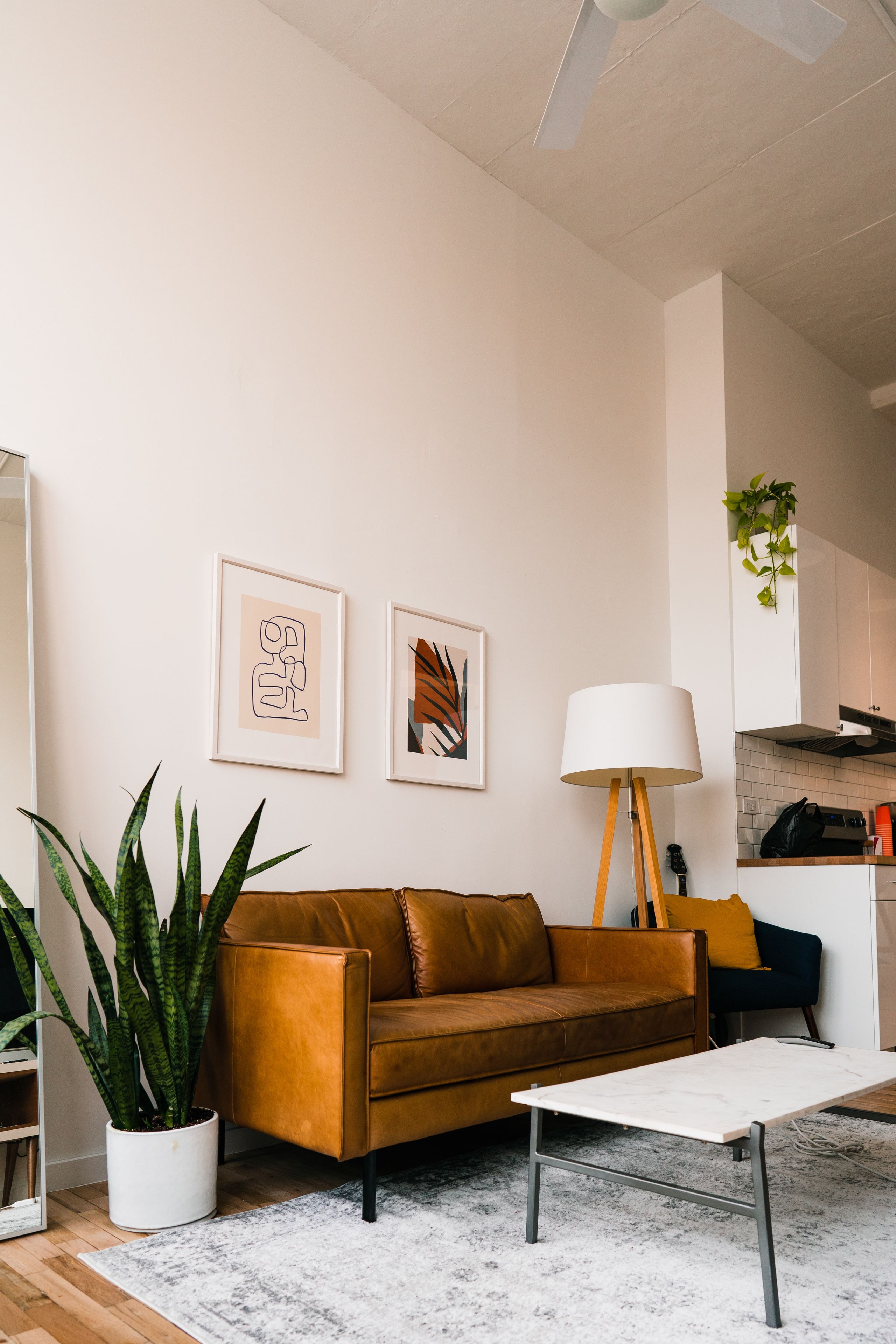 You might not have expected to see the word 'oversized' crop up when talking about the best buys for small living rooms, but when it comes to picking a rug, go as big as your space can handle. 
'Our best design tip is to make sure to place the rug underneath the front of the sofa.' explains Jen. 'This will bring your key furniture pieces together. To avoid the room feeling overcrowded, give the rug enough space from the wall, ensuring the sides of the floor are exposed.'
In a small space, having lots of small furniture just floating around a little rectangle of rug is only going to make it feel tinier. Whereas a large rug that's nearly the size of the room isn't going to break up the floor space and you can use it as an anchor for your furniture. Why not treat the dimensions of the rug like the edges of the room and plan your layout around it. 
5. Statement artwork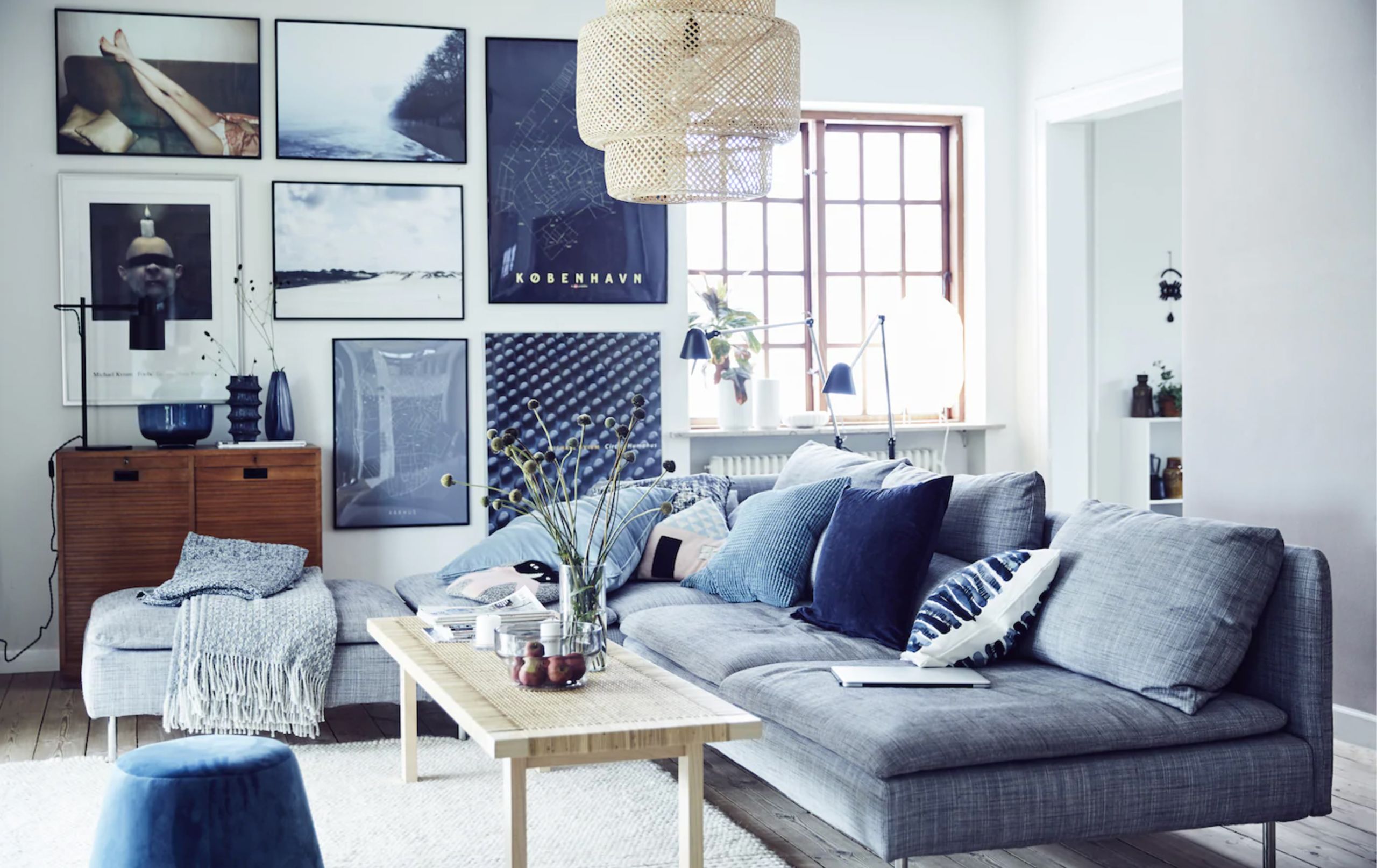 While you might be tempted to keep all your walls free of clutter in a small living room, hanging some large artwork can bring in that color and personality without totally overwhelming the space. 
Just stick to large prints, as yes you do risk just adding clutter if you group lots of smaller ones together. Pick a vague color scheme too to keep it  looking cohesive and not too busy and choose frames very simple so the overall look feels clean and modern. 
What are the best layouts for a small living room?
The best layouts for small living rooms are ones that avoid having every piece of furniture pushed up against walls. Give your furniture room to breathe and pull it into the room so you don't have a space that's all floor, with no personality or shape to it.
When it comes to deciding on where to place your furniture, the best place to start is picking a focal point to arrange everything around. That might be the TV, a fireplace or a piece of artwork,  then you can choose whether to have a balanced space with equal amounts of furniture on each side of the focal point, or a more relaxed look with less of a structure.
How do you maximize space in a small living room?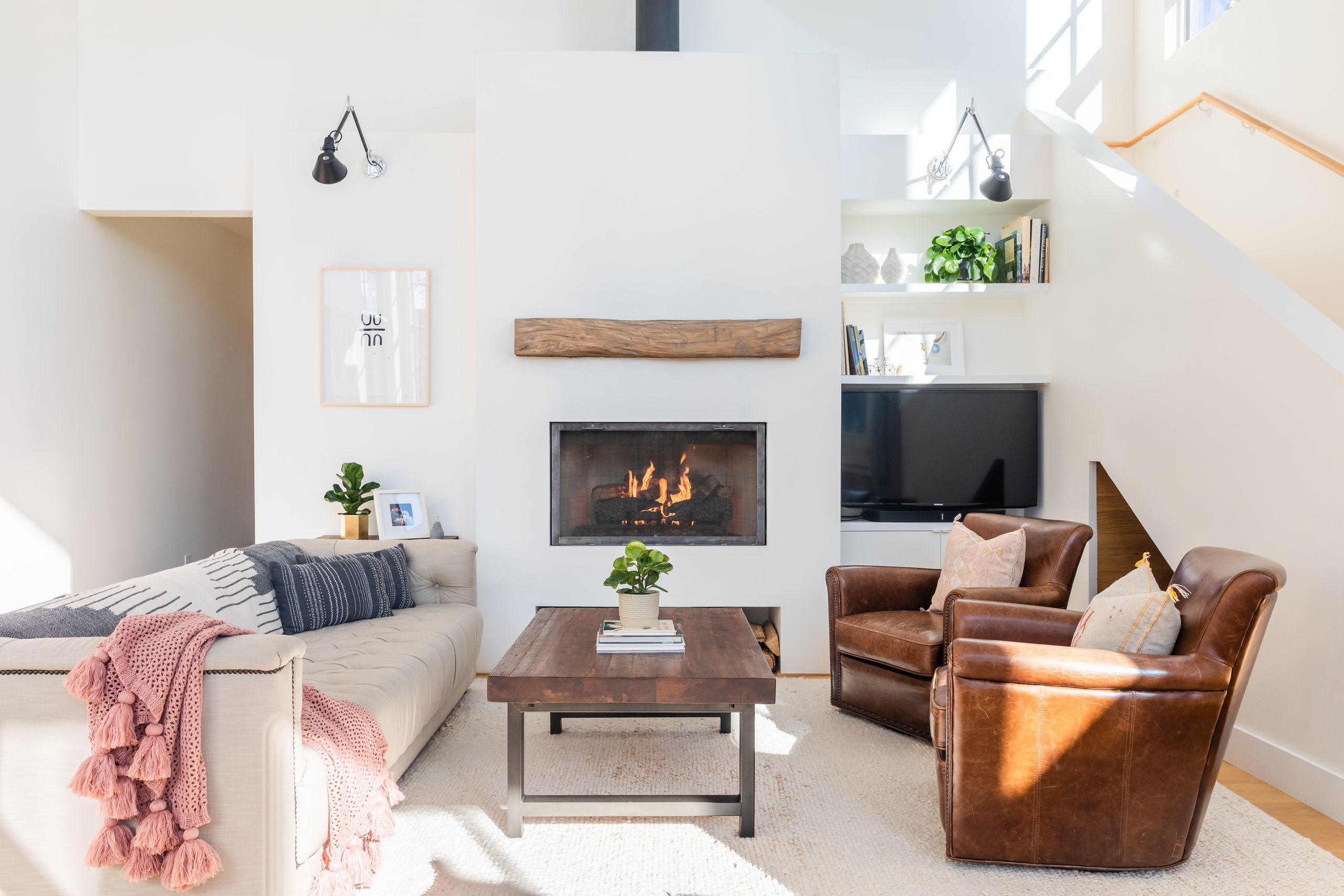 The key to maximizing space in a small living room is to stick to that age-old mantra of less is more. Really think about what you need in your living room. As we've just shown, you technically don't need more than seating, storage of some form and decor to create a stylish, functional space. 
Obviously always be thinking multi-functional when it comes to furniture too as that's a super easy way to make your space work harder. And the colors you choose to decorate with can, maybe not add space, but definitely make it feel bigger. Stick to a neutral scheme for a straightforward way to make your living room appear lighter and larger.    
How do you choose a sofa for a small living room?
Picking a sofa for a small living room will of course depend on your style and budget, but as we see it there are two ways to go – big and cozy and just accept your room will feel smaller but more intimate or go for something very simple and slimline that's going to sit higher off the floor and won't take up as much visual or physical space.