When it comes to modern living room trends, there are lots of new ideas to play with. This year has seen the arrival of new palettes, new textures, new ideas for what makes a house a home.
To decode the latest modern living room ideas, we asked a panel of experts for their insight, offering plenty of inspiration for your own decor. Could this be the year you embrace a Parisian style?
Gallery-style elegance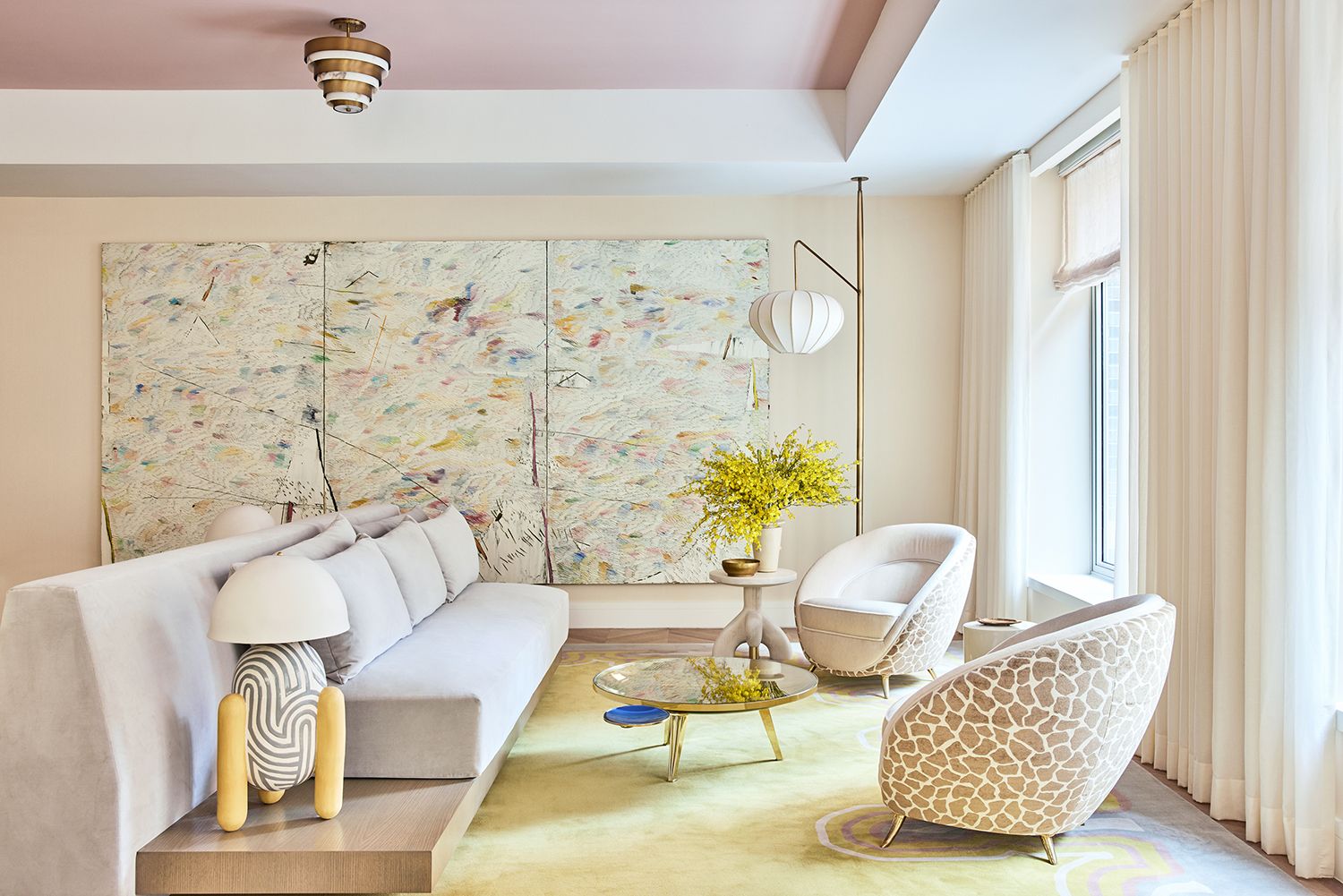 Opting for a curated collection of lovely things is a sure-fire way of getting an original interior. 1228 Madison Avenue is a modern, boutique residential building with architecture by Robert A.M. Stern Architects and interiors by Kelly Behun Studio, and is full of modern living room trends. 
The apartment building in question is located in the Upper East Side's Carnegie Hill, one of New York City's most storied and classically elegant neighborhoods. Founder and lead interior designer Behun comments, 'I designed one of the full-floor apartments as a living gallery; a space filled with my own custom designs along with some of my favorite furniture, lighting, rugs, art, and accessories. It is a homage to my favorite gallery spaces and the style reflects the refined and elegant feel that galleries tend to embody.' 
Behun's sensitive approach to the living room design means that whilst it works as a whole scheme, each of the modern furniture ideas and piece of art truly sings in its own right. The design for the main room, referenced as 'The Great Room', all started with the wow-factor rug. 'The notion of a traditional bordered rug that you might see in a townhouse on the Upper East Side was what inspired the design', says Behun. 'Instead of using straight lines, we designed a series of undulating shapes and forms that flow around the rug margins. It almost suggests a choreographed dance, and serves as a lively frame around the seating arrangements that sit within an otherwise calm field of solid color at the rug's center', explains Behun. 'Woven with an unexpected color palette including citron and warm rose tones, this rug feels fresh and modern, yet still timeless. The rug informed the design of the rest of the room, from the curvy, gray lines on the custom ceramic table lamps to the terracotta pink ceiling. All of the furniture is kept quite low, which gives the illusion of greater height to the already lofty 3 meters (10 ft) ceilings, and is upholstered in a mix of fabrics with different patterns (such as the giraffe print on a pair of lounge chairs) and textures (including velvet, shearling, mohair, and bouclé) to add layers of visual and tactile richness', says Behun. 
The verdict? The room oozes modernity with its contemporary curved shapes and glamorous metallic touches. A truly original and unique approach resulting in a thoroughly modern living room aesthetic!
Cocooning and calm color palette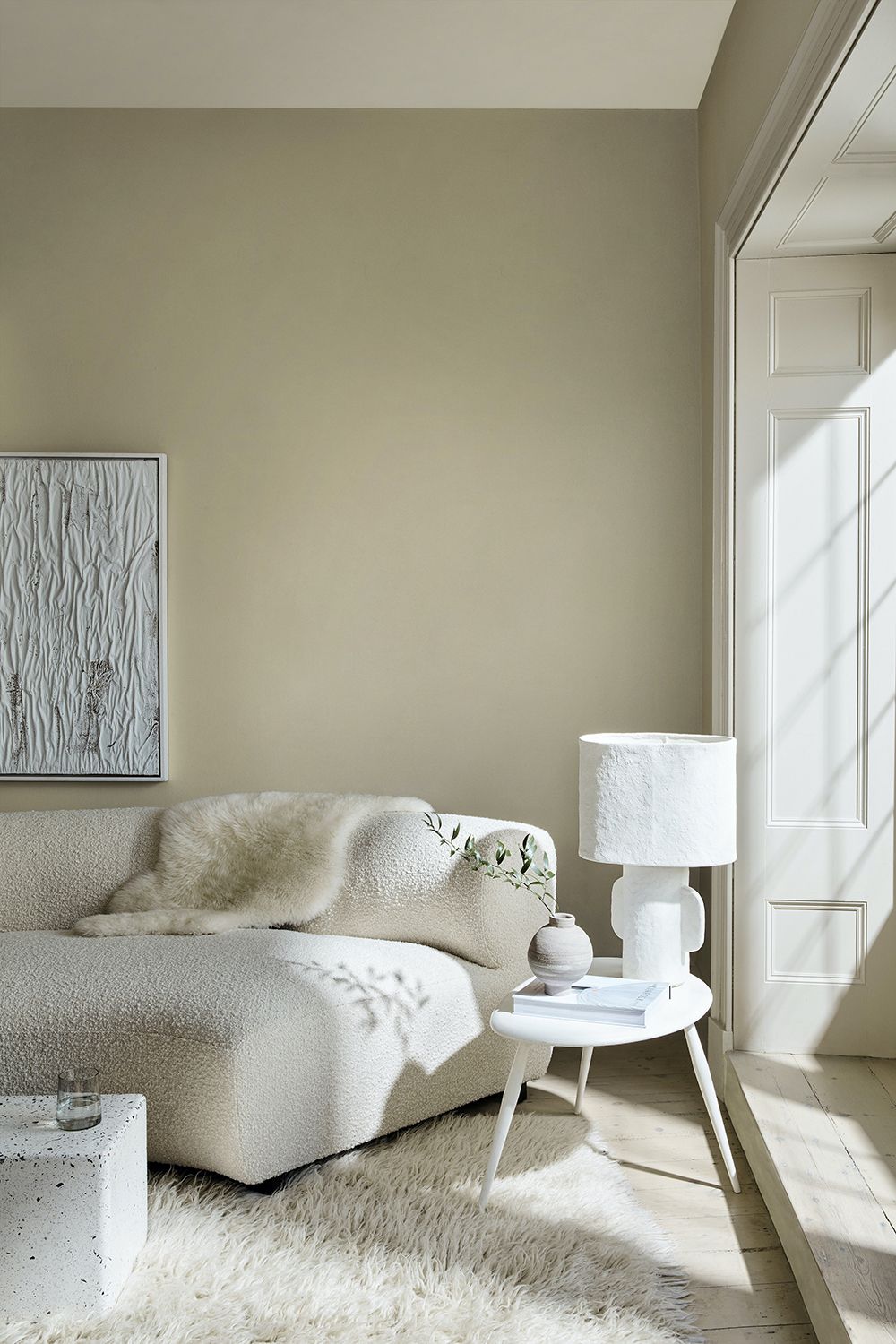 Ruth Mottershead, who is the marketing director at paint and wallpaper brand powerhouse Little Greene, highlights tranquility and a calming color palette as  one of the most major modern living room trends, most recently as a result of the pandemic and people looking to seek ultimate comfort and calm within their home surroundings, with more soothing living room color ideas. 
Ruth says, 'over the last year we have seen a big shift from cooler tones towards softer and warmer shades, helping us to create cozy spaces within our homes. Neutrals and warm tones help us to create calming and restful schemes, working particularly well for bedrooms and living rooms, spaces where we seek peace and comfort. 'These tones really make a space feel modern. They transition well from season to season and have been very popular over the last year as we have sought out neutral tones and natural texture', explains Mottershead. 
'Neutral tones, such as our Little Greene Normandy Grey and Stone Mid Cool are very versatile and are easy to combine with warmer olive greens, paler creams and other earthy tones for a more dynamic and contemporary look. For a more harmonious scheme that is calming, yet still looks fresh and uplifting, look no further than a selected mix of white tones. Our new Silent White family exists for exactly this reason. Neutral White, available in paler and darker variations of the same shade, can be used in combination on walls, ceiling, and paneling for a sophisticated tonal scheme whilst simultaneously providing soft warmth. Effectively, you can bring interest by shifting shades in the most subtle of ways', says Ruth. 
'Whichever colors you opt for on the walls, layering in a few textural elements will help to tie the scheme together and ensure it looks fresh; wooden finishes, wool, and linens will really help bring the room together and make it feel new. The most successful way to make a cocooning and calm living room work is by bringing in a textured boucle sofa or armchair, a deep pile rug, and cushions and accessories which give the living space a relaxed vibe.'
The global traveller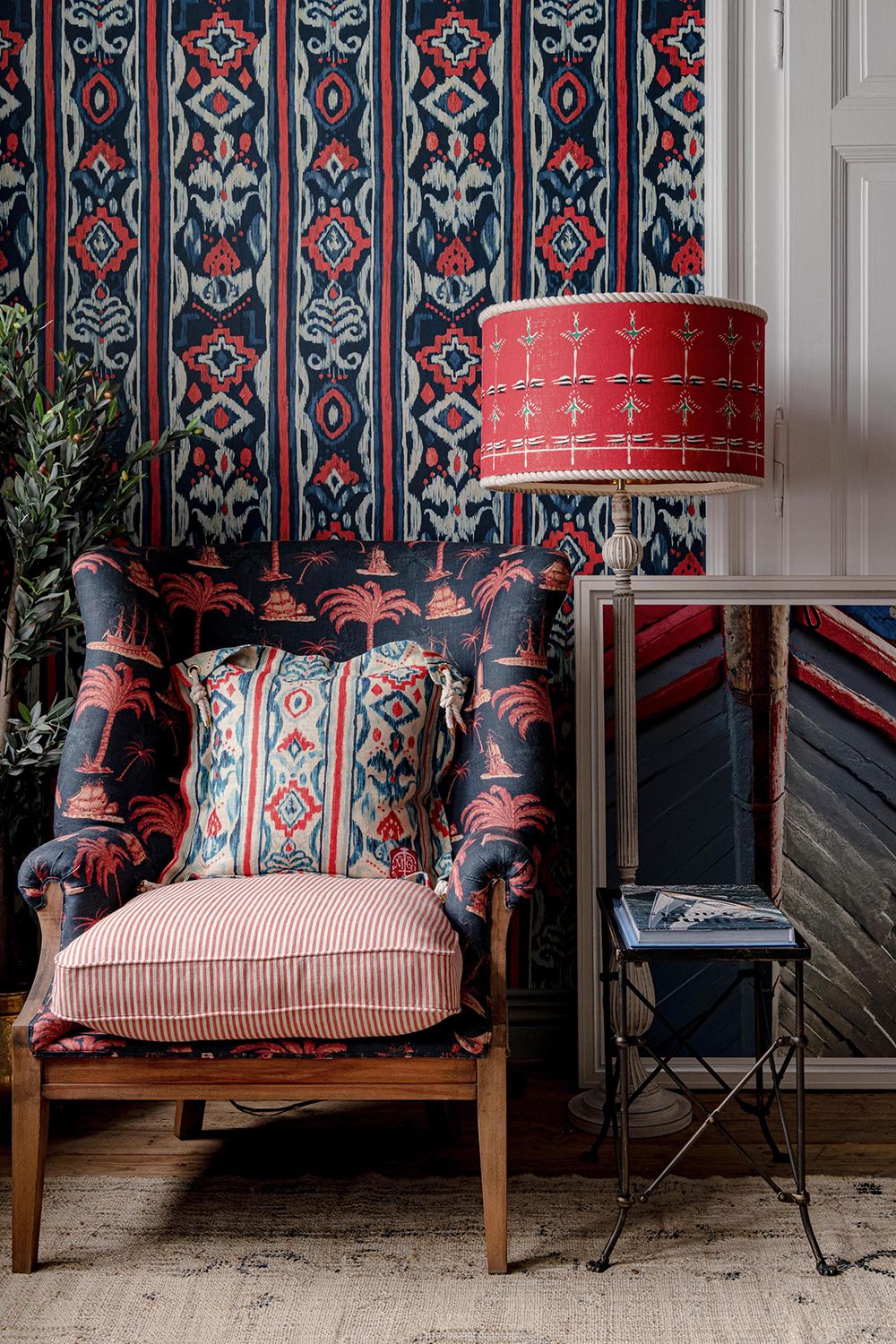 The globally inspired look has been seen on interior mood boards and schemes for a couple of years now, but that just highlights how  these modern living room trends bubble under before coming to the fore. The fact that it hasn't shifted off the radar demonstrates that this is an interiors trend that has both staying power and impact. 
What's the concept? It's a pick and choose scenario, pooling signature styles and pattern motifs from countries around the world and either mixing just one or two together or in abundance for a maxi and multi-layered approach. 
Stefan Ormenisan, the creative director and taste aficionado behind Mind The Gap and many an interior design scheme, says, 'with the current focus of being at home over the last year, we have all been longing for global influences in our homes, now more than ever. A selection of different countries and their traditional prints have inspired our latest collection. Our Sundance Villa collection includes beautiful painterly scenes of the Mediterranean, subtle Greek motifs, and vibrant sea-inspired prints, meaning it's easy to capture the essence of the holiday feel in our homes by layering pattern, color and texture', says Ormenisan. 'What better place to capture that holiday spirit than in our living rooms, which are places we naturally retreat to for relaxation and comfort. From charming, coral and fish motif adorned wallpapers and fabrics to tribal and tropical-inspired cushions. Rich, colorful lampshades and furniture – the global traveler trend isn't a strict rule abider and is all about layering eclectic prints and lavish designs to transform those holiday memories into a permanent lifestyle, bringing the spirit of the world, indoors.
Clever wall panelling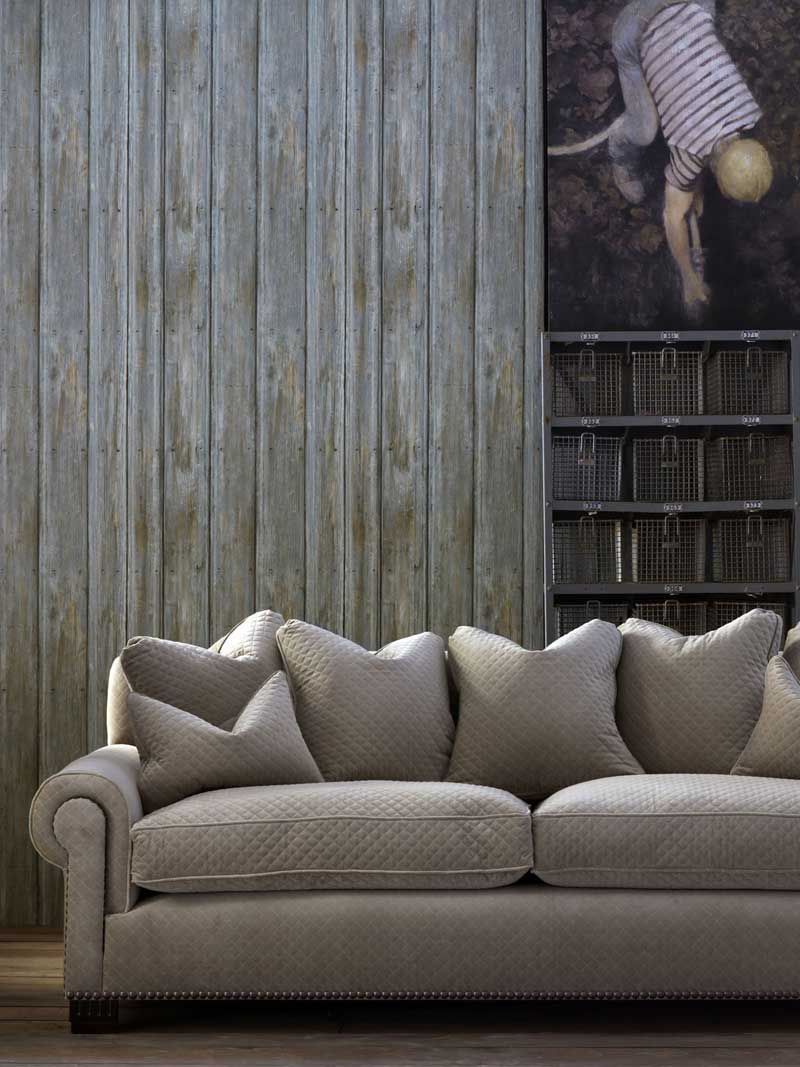 There are no flies on this decorating trick. Wall panelling, which is by no means a new invention we admit, has seen a resurgence in popularity recently as people look for alternative ways to bring interest into their living rooms, other than the traditional wallpaper and paint methods. However, this modern living room trend is all about thinking wall paneling with a modern twist! 
Whether you opt for a sleek 1960s style slim-line paneling, or indeed a more traditional period formation with beading and detailed molding, it's all about the color you paint or indeed the finish that you coat it with. It can also be about being clever and creating a paneling effect but with wallpaper. We caught up with Martin Waller, founder of Andrew Martin,  one of the UK's most prolific wall treatment design houses, to ask how you can make sure that your wall paneling is oh-so modern! 
'Wall panels add subtle textures and still achieve their original function of maintaining warmth, fulfilling our longing for the tactility and natural materials that modern life is often lacking," Martin says. "Wall paneling is often seen as a traditional application to our homes but fast forward to today and many people are adding their own spin to paneling, making it a more accessible design trend, which makes it so relevant for decorating in 2021. Take a traditional wall paneling for example – as soon as you paint it a contemporary tone of paint then it instantly takes on a rather joyous and modern aesthetic. If taking part in this DIY task seems overwhelming, you can also achieve a wall paneling look through the use of wallpaper – design trick 101! It's one of those living room wallpaper ideas that offers the same effect but requires minimal effort.'
Bringing the outside in, with materials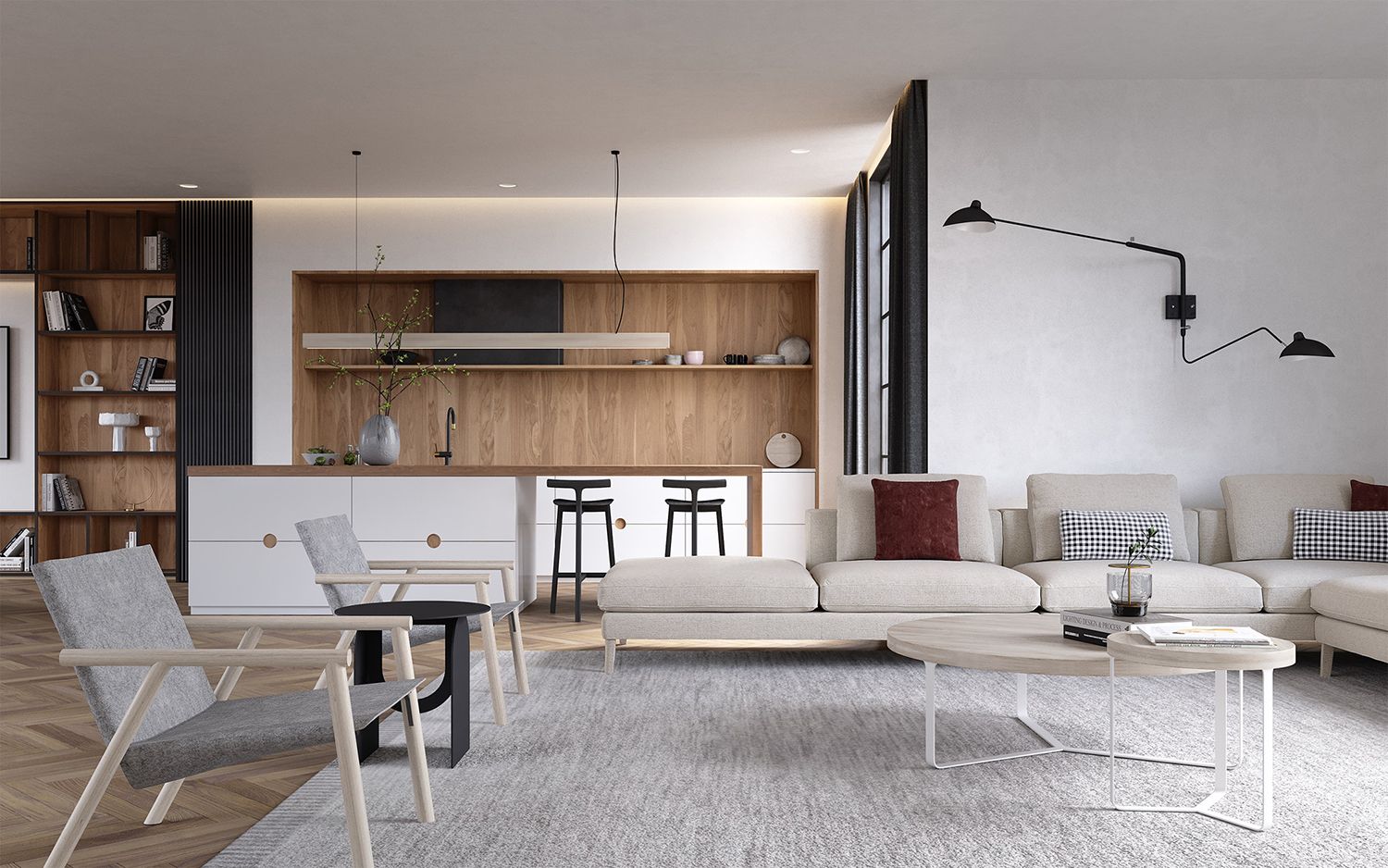 Bringing outdoor elements into a living room needn't involve oversized palm prints and glaring green tones, that's the word on the street when it comes to modern living room trends in 2021. It can be achieved with the most subtle of touches; wooden surfaces, natural woven fibers, and a general, subtle, infusion of nature in the interior design scheme. 
For New York-based interior designer Ewa Podgórska, this is exactly how she approached the living room in her Luna House project. Podgórska says, 'In designing spaces of the Luna House, we looked to nature to create configurations for depth, openness, and refuge. Nature is particularly evident in the material finishes and subtle texture choices in the main living room space' says Podgórska. 
'In this design, we create connections with the use of natural materials, like wood, stone, natural fabrics (think natural woven wool textures, linens, and natural fibers like jute). We focus on subtle textural differences, so each piece has a unique tactile effect. Smooth, rough, polished, brushed – even the same material will feel unique to the touch depending on how it's finished! Another thing we borrow from nature is the use of the – often subtle – variety because nature loves diversity. So when using wood, we like to mix a few different species and colors of the material in the same space. Colors are soft and neutral, yet we add touches of unexpected patterns, to have that small element of surprise and interest. It's all about layering. Simplicity can also be dynamic,' explains Podgórska. 
Want to recreate the subtlety of this trend? Seek out your natural materials and cues and keep it all understated and calm.
The live-work movement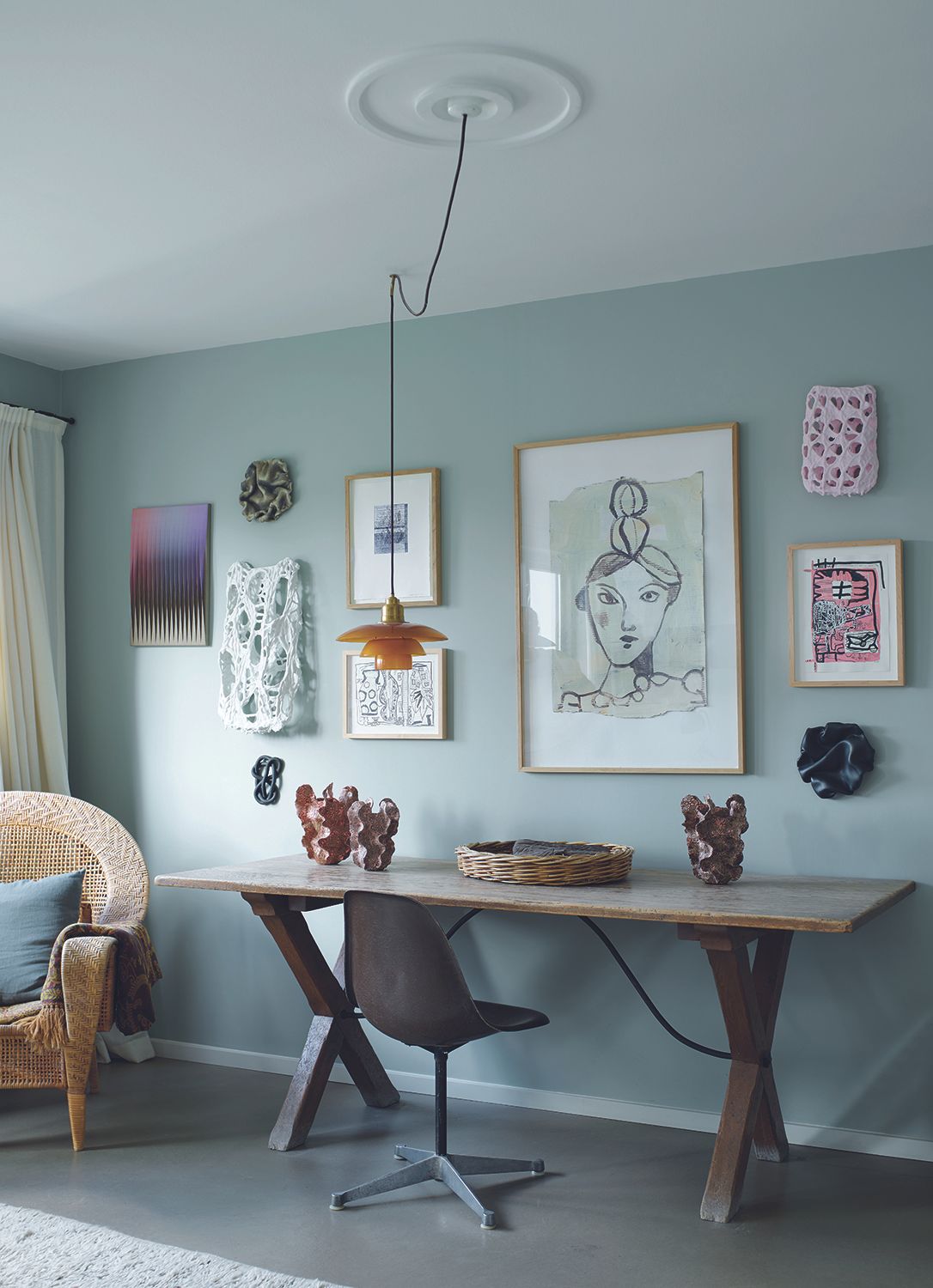 With the drastic shift in the way we work (and come to think of it, pretty much everything else in life) one of the lingering effects of the pandemic is that our homes now need to provide both work and living space, and we need more home office ideas. Whilst this might not be new for absolutely everyone, it is for the majority of us. We now need our homes – including our living rooms – to be a bit more multi-purpose. 
Living rooms have been increasingly all-encompassing in recent months, and it's proving to be an essential trend. Patrick O'Donnell, Farrow and Ball's brand ambassador, says, 'Not everyone is blessed with spare rooms for individual workstations, so it's become a requirement in many a household to consider how to use the space in our homes more ergonomically – from a shared kitchen table to re-purposing an unused corner of the living room – live-work is an ever-increasing home trend. Colour, of course, will play a big part in how these spaces become successful areas to keep the mind focused' says O'Donnell. 
But how do you style up a live-work living room? 'Dark tones feel incredibly inviting whether you're clocking in for the day or reading deep into the night. A living-room-meets-workspace with a velvety Down Pipe tone feels smart and business-like during work hours, yet glamorous enough to set the scene for intimate dinners or relaxing when the day is done. Whatever color you end up opting for, multi-tasking spots really benefit from the Farrow and Ball durable Modern Emulsion finish. It keeps things simple, beautiful, and (perhaps most promisingly, when the whole family's home at once) presentable. You can wipe it! The living room-cum-work scenario shown above is finished in Light Blue Modern Emulsion. It's got just enough of a color kick to make the room feel coordinated, calm, and modern.' says O'Donnell. 
Get the look at home by making your work station a destination with art prints hung above.
Maximalism 2.0, more is more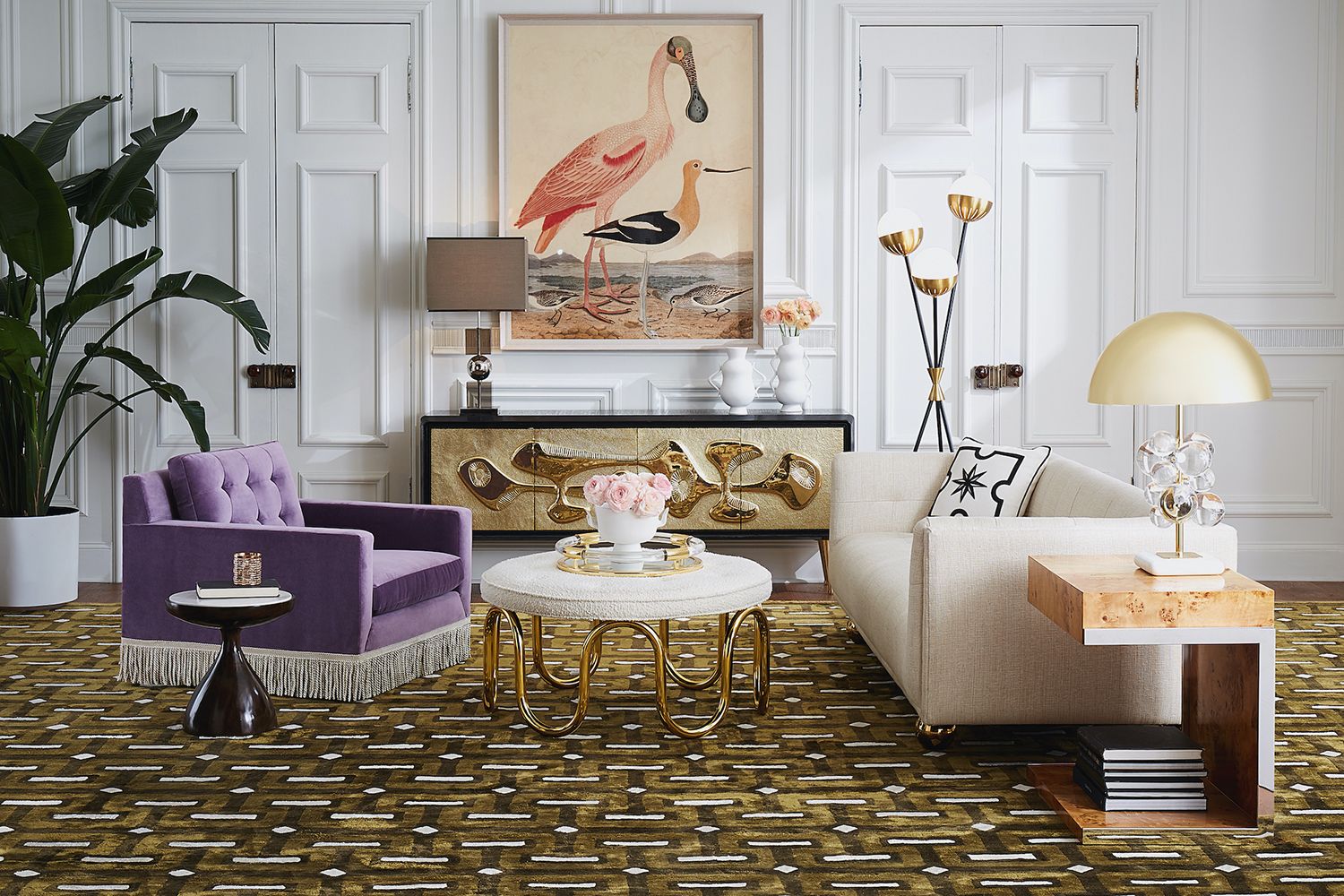 Maximalism is all about loading the space with stand-out design elements. Initially, people perceived maximalism to mean patterned wallpaper, on every surface. This was what caught people's attention and put the trend at the forefront of designer and brand lines. 
However, over the last year or so, the maximalism look has shifted and elevated into a new sphere, and modern living room trends have moved the idea on. It's about being a curator, and surrounding yourself with interesting, beautiful, and fun objects and things. The designer who probably best resonates and represents this is renowned New York-based designer Jonathan Adler, a leading light in how to curate a 'wow' interior space where every element sings and is as fabulous as it can be. 
Adler, who guest-edited our June 2021 issue of Livingetc magazine says, 'Minimalism is a bummer. Minimalism is very safe, Tasteful, but it is not memorable. I think it's a sign that you are slightly afraid of doing anything wrong and I think that's a very boring way to live. To me, minimal is miserable, and maximalist is merry. People might think that I'm very post-Marie Kondo but I absolutely love her concept that you should only surround yourself with things that spark joy. I just happen to have lots of things that spark happiness within my soul – and encourage you to find joy in, say, a lipstick-pink chair, just because.' 
You heard it here first. More beautiful things are, well, more! Get the look by shopping for all of the things you find beautiful.
Downtown urban city chic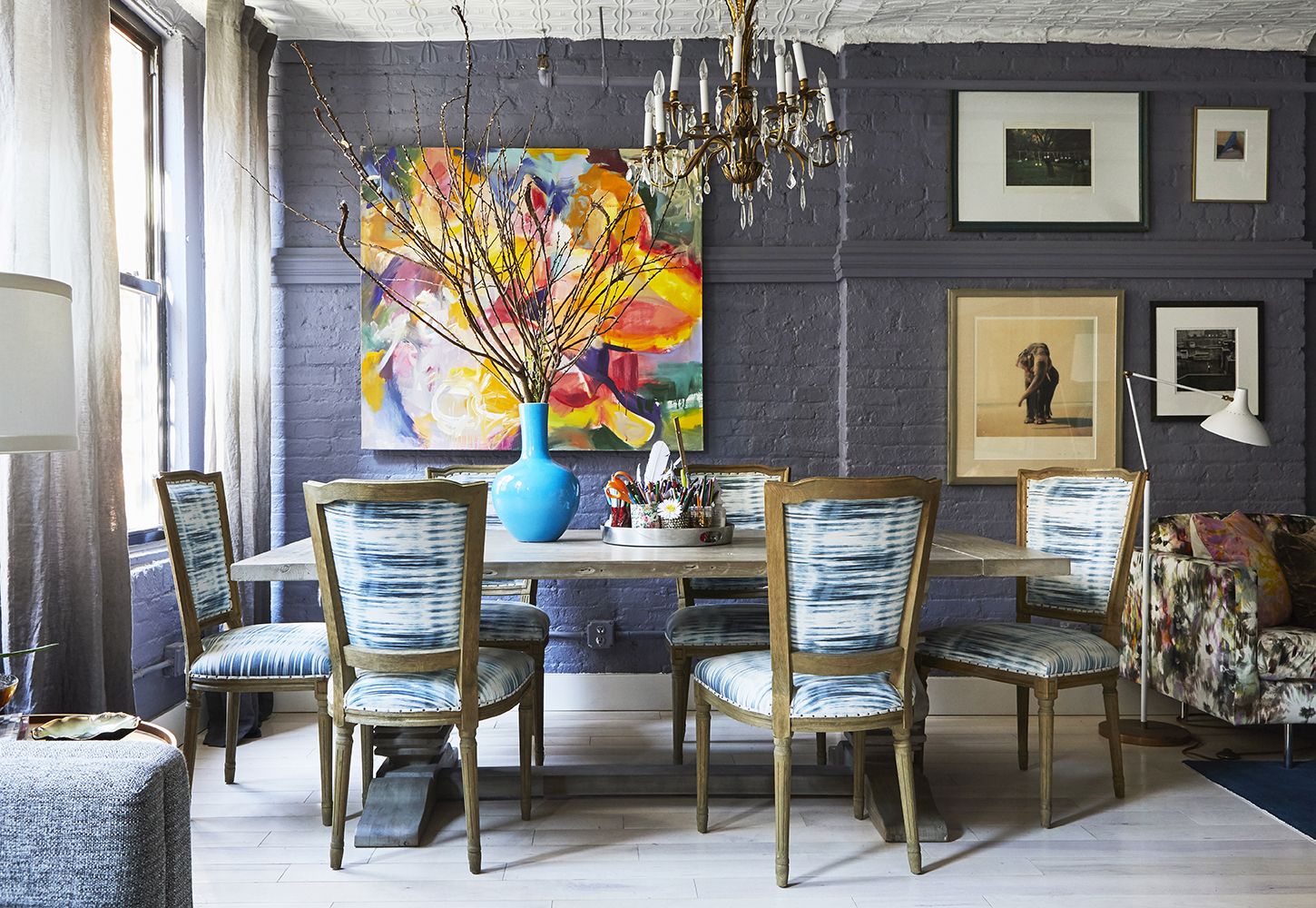 Bringing the urban city apartment look right up to date, with a certain downtown chicness, is New York-based designer Rayman Boozer. We've had the Industrial trend. You probably know what that looked like. Stripped back steel, burnished metal fittings, and lots of copper and exposed filament bulbs. Well, it's moved on. Take your industrial apartment or warehouse-style and get confident with color, says Boozer, a proponent of this modern living room trend. 
Brick walls or wall paneling looks brilliant painted out – softening the backdrop – with a muted color hue. Boozer has the ultimate touch when it comes to transforming a downtown living room. 
He says, 'Color palette can really set a tone for a room, and particularly in your home, it sheds light on your personality! You can walk into a space and instantly learn something about the inhabitants without speaking a word. The real challenge is discovering what personality to emote. Living in downtown New York, I've fallen in love with the neighborhood's inherent juxtaposition of gritty textures. Think cobblestone alleys, brownstone facades, graffiti murals, and busy vignettes. Then mix with optimistic, candy-colored accents, inspired by: Soho storefronts, Subway mosaic art, and new fashion around every corner', he says. 'I'd love for every project to be filled with complex urban-inspired color combinations, but the key is always in the layering,' says Boozer. 
'In one recent project downtown, I used grey as a neutral base in every room; all the larger elements like the walls, sofas, dining table, and counter areas are a blue-grey tone and serve as a foundation in which to layer on other colors. A brighter Cobalt Blue is used as the secondary color that triangulates around the room from the built-in bookshelves to the dining chairs to the accent wallpapers. And given the close relationship between the greys and blues, I freely used multi-color accents in the rug, artwork, and accessories. Some people prefer to stick with one accent color, but I'm in favor of using all the Crayons in the box!', explains Boozer. 
The lesson learned on this trend? It's all about being downtown. Recreate that urban city buzz and energy with a smorgasbord of colorful furnishings, accessories, and art, against a smooth and sophisticated backdrop hue. It's confident and it's new. If the infamous Carrie Bradshaw apartment needed a 2021 interior overhaul, our bets would be it would be looking like this.
Moderne parisian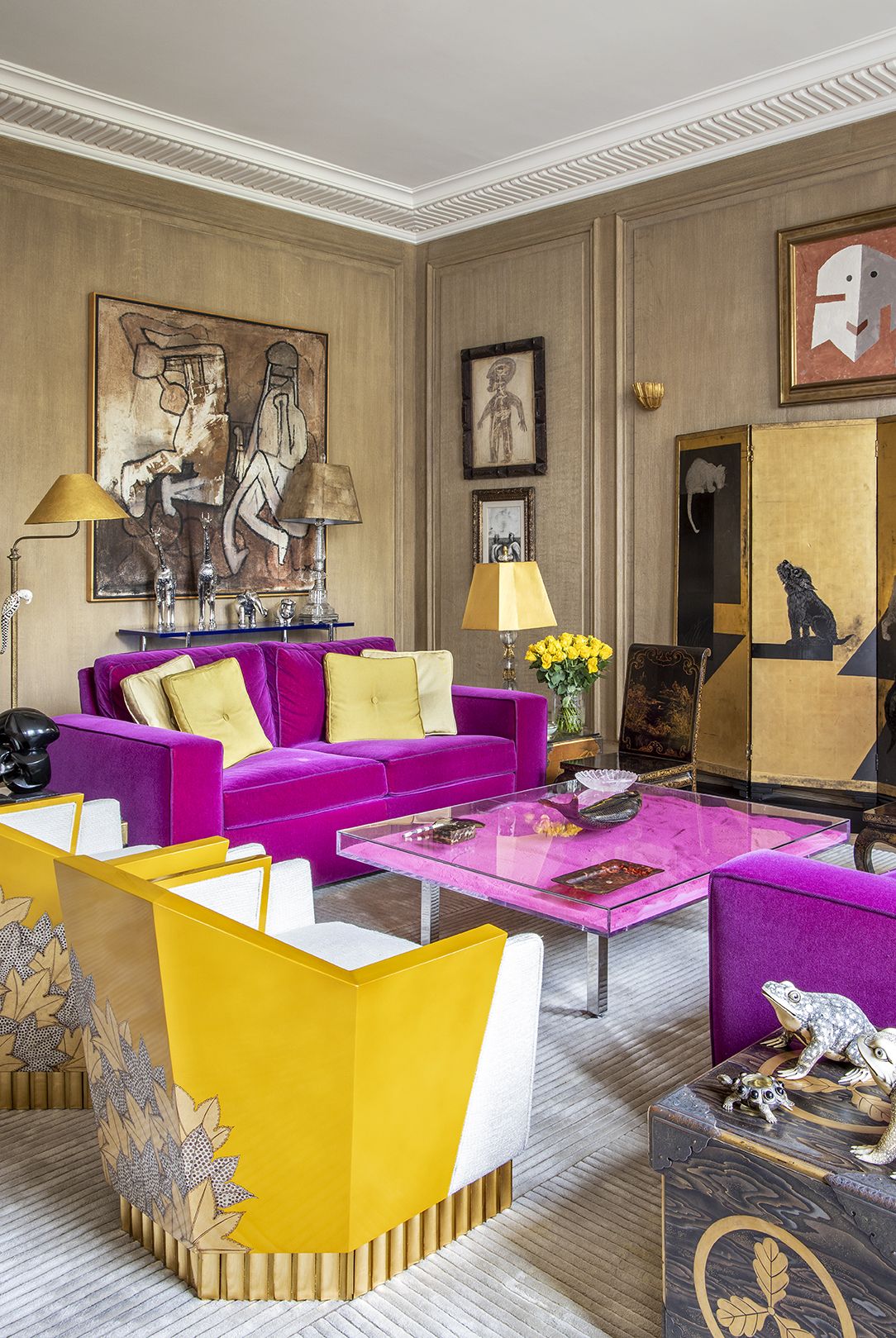 Spinning contemporary touches and twists on the classic Parisian style is one of the chicest ways to decorate a living room, and nobody does it better than interior designer and furniture and interior design studio Pinto. 
The firm, led by Linda Pinto, manages to – somewhat effortlessly – cut a modern twist through elegant Parisian style decorating schemes, adding all-important nuanced contemporary touches for 2021: a luminous opalescent ochre table lamp, shocking pink sofa, a leopard print cushion or an abstract piece of wall art. Pinto lifts this particular elegant aesthetic into a new decade of decorating. In one of their most recent projects, Linda Pinto's own Parisian home, they have produced something truly in the moderne Parisian style. 
Pinto explains, 'In the reception room, the simple act of adding pops of color immediately brought a joyful and welcoming feel to the space. The main idea was quite simply to not be boring, to be able to highlight the art and bring attention to the folding Dunand lacquer screen, which features a humorous design that aptly sums up the spirit of Pinto herself. It was necessary to balance the seriousness of the Workwood with a little lightness, the traditional with the modern, the neutral tones with vibrant colors, the patterns with the plain, and above all to reflect not only the personality of Pinto but the essence of our style. As the space features many artworks, paintings, and luxury sculptures, a key factor was that it needed to feel like a home, to not become static or museum-like. It needed to be warm, cheerful, comfortable, and inviting. With this in mind, it was essential that seating and furniture appeared immediately. The small tables allow visitors to easily put down a drink and relax. Enhanced by the warm colors, the atmosphere of the space is almost festive, whilst still oozing modern Parisian elegance.
20th century magpie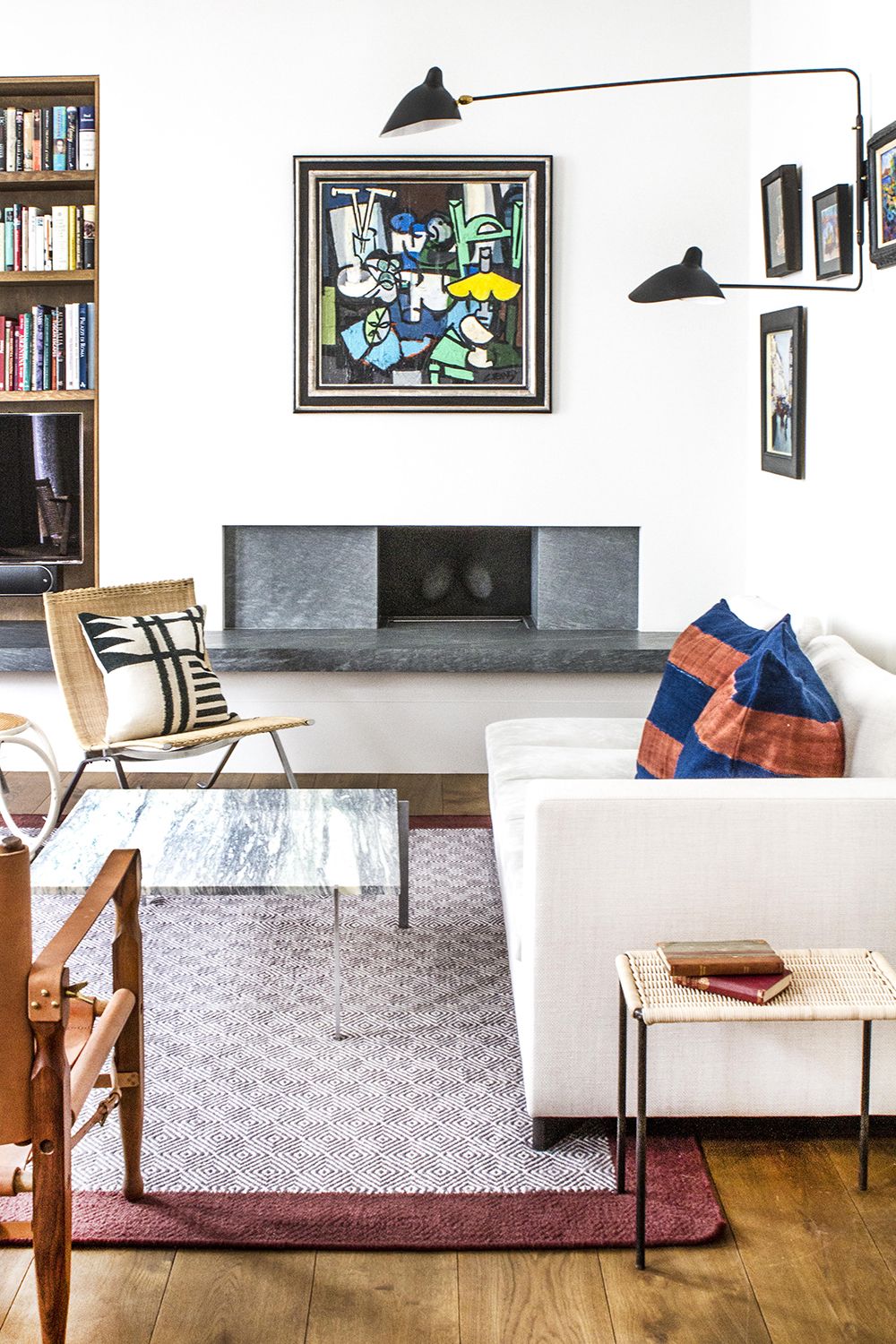 Reclaimed, vintage, and modern antiques are a buoyant trend in the interiors industry. Mid century modern furniture design pieces, in particular, prove greatly appealing for interior designers and their clientele. 
Kurt Kovacs Braidley, gallery manager at Sigmar, a King's Road-based interior design business that specializes in the sourcing and supply of unique and highest quality 20th century design furniture and lighting, says 'Including original vintage furniture and objects within an interior is a necessity for us. It's our raison d'etra. Most people are aware that putting something old within a new space is a good way to inject warmth and character into a room. However, sourcing the right vintage piece for an interior can do much more. The perfect armchair, chair, or coffee table can help make a space more operational, breathable, and calm. It is all about feeling. Generally speaking, we find that objects from the past were awarded a greater level of consideration in regards to their design and materials. You have to go far to match the same levels of craftsmanship and inherent uniqueness in today's world. Specifically, Modernist design from the Mid-20th Century, an era characterized by Utopian post-war reconstruction, was resolved in being better than what came before and pieces were designed to last. In a nutshell, the high level of consideration put into designs of the Mid-20th century design items means that they retain a sense of traditional craftspersonship even though, more often than not, they utilized modern industrial materials and were mainly produced by machine. Include a 20th century item of quality, say a table or chair from the mid-1950s or 160s, and you instantly add a higher level of design to your living room.'