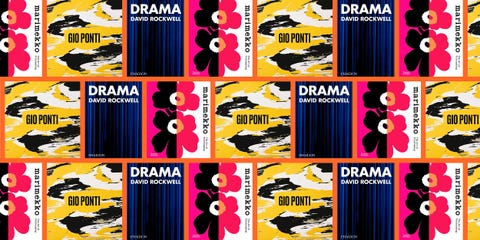 Courtesy of Phaidon, Taschen, and Thames & Hudson
It's no secret that here at ELLE DECOR we are all bibliophiles, so when new design books are released, we can't help but dive in and share our faves. The last few months have brought us a bounty of new releases, from a collection of the world's best contemporary designers to a guide on how to live a sustainable life, to a look at how race, gender, and politics affected mid-century modernism. We've rounded up 26 of the best new design books that will inevitably make their way to our shelves.
1
Stamps & Stamps: Style & Sensibility
In their first book, Southern California–based architecture and interior design duo Odom and Kate Stamps take readers inside their picturesque projects. 
2
Gio Ponti
Taschen
amazon.com
$250.00
This tome gives readers an up-close look at the genius of Italian architect and designer Gio Ponti. And it's a supersize view: Not only does the book weigh over 12 pounds, but it features 136 Ponti-designed projects and a fascinating selection of never-before-seen materials. 
3
Marimekko: The Art of Printmaking
Yale University Press
amazon.com
$65.00
To celebrate the 70th anniversary of the beloved Finnish textile maker, this new book gives fans a look back at some of the brand's biggest moments, a peek into the printmaking and patterns, and a preview of what the next 70 years might look like for the iconic company.  
4
By Design: The World's Best Contemporary Interior Designers
This volume is precisely what its title implies: an in-depth and invigorating look at the world's best contemporary interior designers, including talents like  Studio KO, Beata Heuman, Romanek Design Studio, and Faye Toogood, among many others. Flip through a vast array of stunning projects from designers selected by a panel of experts, including ELLE DECOR executive editor Ingrid Abramovitch.
5
The Maine House
The Maine House gives readers a look into a selection of homes across Vacationland, highlighting the charm and personality of the places and the people who inhabit them. 
6
Provence Style: Decorating with French Country Flair
This book takes you on a visual vacation to the south of France to examine the charming design characteristics of an 18th-century farmhouse, as well as a selection of living areas, private spaces, gardens, and terraces of the region. 
7
Patented: 1,000 Design Patents
Phaidon Press
amazon.com
$35.96
An encyclopedia of sorts, this book illuminates the stories and histories behind 1,000 design patents—a read that's sure to satisfy your inner design-history nerd.
8
Mid-Century Modernism and the American Body: Race, Gender, and the Politics of Power in Design
Princeton University Press
amazon.com
When we think of midcentury modern design, titans like Charles and Ray Eames, Florence Knoll, and Eero Saarinen probably come to mind. But this book views design through a sociological lens and highlights how race, gender, and identity affected the aesthetic choices of the much referenced era.
9
The Naturally Beautiful Garden: Designs That Engage with Wildlife and Nature
This volume visits gardens around the world that are notable for both their beauty and their thoughtfulness to the environment.  
10
Design Secrets: How to design any space and make it your own
The founder and creative director of Firmdale Hotels and the Kit Kemp Design Studio shares from her go-to artisans on how to do everything to create your own personal retreat.
11
Jungalow: Decorate Wild: The Life and Style Guide
Home design, style expert, and Junaglow founder Justina Blakeney shares how to live with pattern, color, and plants in her second book.  
12
Humane Home: Easy Steps for Sustainable & Green Living
Princeton Architectural Press
amazon.com
The DIY book shares how to create a space for living, breathing, and enjoying a sustainable home and life. 
13
A Tower in Tuscany: Or a Home for My Writers and Other Animals
What's better than a look inside a home in the idyllic Italian countryside? A selection of essays from authors including Zadie Smith and Edmund White, among many others who've retreated to a storied Tuscan farmhouse to write.
14
Patina Homes
The first book from husband-wife design duo Giannetti Home travels through 12 of the firm's projects from the East Coast to Southern California. 
15
Hotel du Cap-Eden-Roc: A Timeless Legend on the French Riviera (Langue anglaise)
Even if you're not planning an escape to the French Riviera this summer, this book just might be able to quench some wanderlust by providing a look inside one of the world's most glamorous hotels. 
16
Drama
Phaidon Press
amazon.com
$58.65
Get a behind-the-scenes peek into how some of the world's most spectacular sets come to fruition in this new monograph from star set designer and architect David Rockwell. The Tony award–winning architect also notably created the set for the 2021 Oscars. 
17
Martha's Vineyard: New Island Homes
The Monacelli Press
amazon.com
$50.00
This new book presents a collection of contemporary homes on the Massachusetts island known for Victorian homes, farmhouses, and coveted summer retreats.
18
No Compromise: The Work of Florence Knoll
Princeton Architectural Press
amazon.com
$29.95
You might know Knoll's iconic office furniture, but do you know its influential design director, Florence?  This new book examines her career and how she shaped furniture design forever. 
19
Home Farm Cooking
More than 20 years after he released his first cookbook (now out of print and in high demand), British architect John Pawson and his wife, Catherine, have collaborated on a new cookbook full of incredible recipes to make in each season. Just as delicious: a look inside their dreamy Cotswolds home. 
20
Contemporary Gardens of the Hamptons: LaGuardia Design Group 1990–2020
The Monacelli Press
amazon.com
This monograph looks back at 30 years of gardens designed by the Watermill, New York–based landscape design firm, LaGuardia Design Group.
21
Tadao Ando: Living with Light
Tadao Ando, the Pritzker prize–winning architect known for poetic concrete buildings, gets a new look in this book highlighting 10 of his most recent projects.
22
50 Lessons to Learn from Frank Lloyd Wright
Aaron Betsky, the former president of the School of Architecture at Taliesin, extracts 50 design lessons to be learned from American design icon Frank Lloyd Wright.  
23
Living in Nature: Contemporary Houses in the Natural World
From treehouses to mountaintops, let the elements be your guide as Living in Nature channels air, earth, fire, and water in a remarkable look at architects communing with the natural world. 
24
A Tale of Warp and Weft: Fort Street Studio
Artists and carpet designers Brad Davis and Janis Provisor celebrate the 25th anniverary of their innovative partnership in A Tale of Warp and Weft: Fort Street Studio. 
25
Yves Béhar: Designing Ideas: Twenty Years of Fuseproject
Thames & Hudson
amazon.com
$81.70
In Yves Béhar: Designing Ideas, the Swiss-born industrial designer, who has collaborated with the likes of BMW and Herman Miller, looks back on 20 years of work and examines how the world's most influential companies are rethinking design. 
26
Charlotte Moss Flowers
If interior designer Charlotte Moss has one piece of advice for arranging flowers, it would be to throw out all the rules. Moss's spontaneous approach to arrangements blossoms in Flowers. 
This content is created and maintained by a third party, and imported onto this page to help users provide their email addresses. You may be able to find more information about this and similar content at piano.io