By Hong Xinying
February 19, 2021
Craft your dream interior with our pick of the hottest collections and design trends to watch
New year, new you—and perhaps a new interior to boot, too, if you're making plans to renovate your home. From the retro-influenced styles that continue to be in vogue to the key materials of note, we share the hottest collections and looks to keep in mind for your next decor project.
(Related: 12 Kitchen Design Trends that We Love in 2020)
The plush textures of carpets and other soft furnishings help make a house a home. Layer it up with a mix of colourful accent cushions, curtains and other decorative elements to create a cosy and inspiring ambience.
(Related: 4 Ways to Brighten Your Home With the Bombom Collection by Roche Bobois) 
A non-toxic substance made of water-based acrylic resin, Jesmonite is growing in popularity among hobbyists who use it to craft small objects; the pieces can feature finishes reminiscent of ceramic, stone and various other natural textures.
This versatile material also acts as a means of mending damaged tableware, giving them a second life—that's one of the goals of Grams, a brand founded by Colin Chen, who also runs crafts collective The General Co.
"As a water-based material, Jesmonite is very safe to handle, reducing health hazards in the production process and lowering our carbon footprint and impact on the environment," says Chen.
He uses the material to create new objects as well as fill in the gaps on chipped tableware; it's a move inspired by the Japanese tradition of kintsugi, where broken pottery is repaired with golden joinery to highlight the damaged edges and thus the beauty of imperfection.
Chen's recent creations include a collection by Grams and Kausmo restaurant—mussel shells collected from the kitchen are crushed to form iridescent chips that are combined with a Jesmonite base to form plates and trays.
"There is just so much waste generated from industries such as fashion, hospitality as well as food and beverage. We hope to be able to come up with more creative solutions that can be used in various applications, besides just looking beautiful," he says.
(Related: Chinese New Year 2021: Decorative Trays and Dishes We Love) 
Opt for modular pieces such as the iconic Camaleonda sofa from B&B Italia, which can adapt to your needs. First designed in 1970 by Mario Bellini, this dynamic piece was inspired by the transformative nature of the chameleon; the seats, backrests and armrests of the sofa can be rearranged in various combinations with its unique system of cables, hooks and rings.
Reissued in 2020, the couch's distinctive quilted capitonné buttons have been retained to celebrate its inimitable look.
This new edition features spherical feet made of beechwood certified by the FSC (Forest Stewardship Council), while the removable covers are made from recycled PET, the material used to manufacture plastic water bottles. The polyurethane padding has been improved to feature various levels of firmness for the utmost comfort. Match it with the versatile Gli Scacchi collection—inspired by chess pieces, these can serve as side tables or seats upholstered in leather and calf hide.
(Related: How To Make Your Home More Personalised With Custom-Made Pieces)
As the detrimental effects of the climate crisis continue, industrial designers worldwide are looking to incorporate recyclable materials in their projects. Take, for instance, the Emeco 111 Navy chair from Space Furniture, launched in 2010. Used Coca-Cola bottles are given new life by recycling the plastic containers to create durable, scratch-resistant seats.
More recent examples include a collection launched by local brand Laat, which combines found objects to create covetable new pieces. Founded by homegrown designers Alvin Tan and Cherin Tan, the brand's debut collection features candleholders, lamps (on the right) and furniture that give a new purpose to unwanted and old products.
(Related: 5 Eco-Friendly Chairs Made With Upcycled Plastic) 
Bring the uplifting effects of nature into your home with potted plants such as succulents, which are easy to care for. Even if you don't have a green thumb, your home can benefit from having fresh blooms, too. Display flowers and other fresh-cut foliage in beautiful vases that make crafting your floral arrangement for the week a breeze.
(Related: How To Bring Tropical Style And Nature-Inspired Elements Into Your Bedroom) 
To make your rooms more versatile, consider loose furniture such as side tables. These pieces can be easily rearranged and moved wherever they are needed. Choose tables of varying sizes, heights and colours in the same design to form a stunning pair or trio. Some collections have been designed with this intention in mind; take, for instance, the Les Trotteuses d'Hermès occasional tables from Hermès, which feature bridle leather straps that can connect adjacent units together.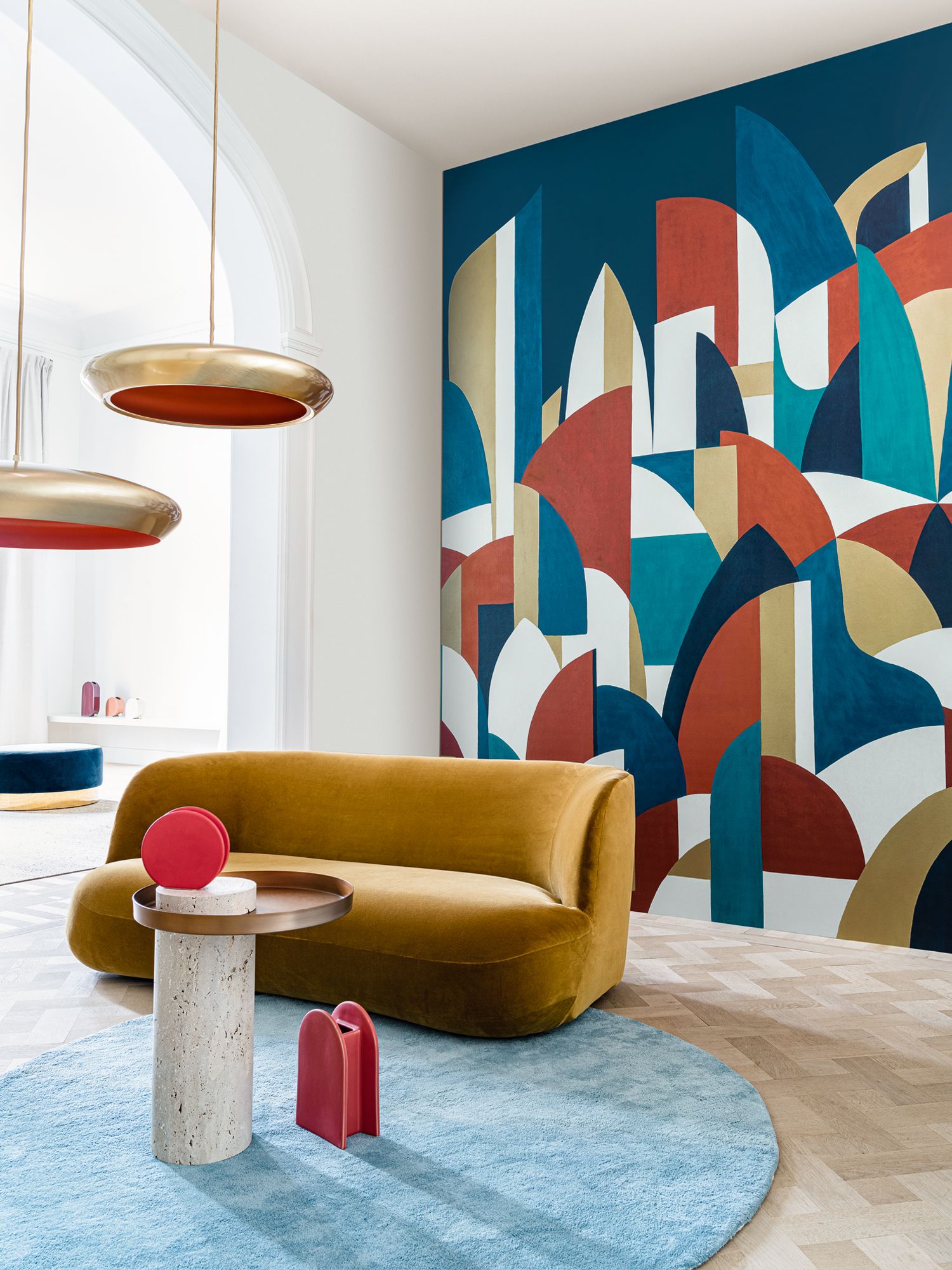 The allure of jewel tones has yet to wane, and for good reason. These sumptuous, saturated colours serve as eye-catching accents while adding to the cosy, considered look of a space.
Match them with plush upholstery fabrics from the Casamance Autumn 2020 collection. Available from Cetec, highlights include Dolce Vita, a velvet fabric, and the Pablo wallpaper which features geometric patterns in gem-like hues for a lively and tactile look.
(Related: 10 Colourful, Quirky Furniture And Decor Pieces Inspired By Wes Anderson's The French Dispatch Film) 
If you're going for a calming look, keep patterns to a minimum. Wall coverings that feature abstract details and fabric-like textures will help contribute to a restful effect. These simple designs also work beautifully to accentuate a feature wall clad in a more eye-catching print; such as the 1838 Wallcoverings Hedgerow Mineral wallpaper and the 1838 Wallcoverings Quartz Chamomile wallpaper from Altfield Interiors, which depicts a lively mix of flora and fauna.
(Related: Home Tour: See How A Gold Wallpaper Adds Instant Glamour To This London Apartment) 
Make your culinary zone more adaptable to both work and play. Consider a multi-purpose kitchen island that incorporates a sink and dining area— not only will this maximise the use of space in your home, it also creates a visual centrepiece that your friends and family can gather around.
(Related: How To Design A Chef's Dream Kitchen In Your Home) 
It's important to include artisanal pieces in your space, and this year well-crafted woven items are the choice pick. These traditionally made accessories not only add a tactile touch but also help create a layered interior.
(Related: How to Include Rustic, Cottagecore Elements in Your Bedroom) 
Plush fabrics and curtains can improve the acoustics of your room, while adding to its snug feel. Entitled Modern Graphics, the Zimmer+Rohde Autumn 2020 collection from Cetec features textiles that include Re-Mix. Pick a textile with a subtle shimmer to add glamour to your bedroom, such as the Nelson fabric; its slightly shimmering pattern is reminiscent of the bark of a tree.
(Related: The Cosy Detail Your Home Might Be Missing) 
Many of us will likely continue working remotely, so it makes perfect sense to create a conducive workspace no matter the size of your home. Try carving out an inspiring nook in your living room for you to take video calls as well as to gather your thoughts on the next project.
Sinuous shapes continue to dominate furniture creations this year—rounded edges can soften the angular layout of your home or act as a contrast to the other linear forms within. What's more, these curvaceous standouts aren't just in vogue; they're also child-friendly, too.
(Related: Home Tour: The Stiletto House In Singapore Is All About The Curves) 
These elegant lamps are a balance of disparities—in spite of their delicate appearance, they are crafted to be much sturdier than they look. Highlights include the Classicon Plissée lamp by Sebastian Herkner. The textile-like folds on the lampshade are actually textures created on handblown glass; its dimmable light source will also ensures whatever intensity you desire.
(Related: 10 Minimalist Lamps From Nordic Design Brands That We Love) 
Gone are the days of associating outdoor furniture with purely functional designs. Today, leading manufacturers and brands have crafted collections that are aesthetically pleasing and durable to boot. These collections will look great indoors or out; families with children and pets will also appreciate the hardwearing qualities of the colourfast upholstery fabrics and easy-to-clean surfaces that have been treated to withstand knocks and splashes of rain.